A New Magazine of Fantasy, Science Fiction, Lovecraftian Horror, and Sword & Sorcery: Gathering Storm
A New Magazine of Fantasy, Science Fiction, Lovecraftian Horror, and Sword & Sorcery: Gathering Storm
Gathering Storm is a brand new magazine with an interesting twist: every issue contains fiction themed according to popular idioms. The editor, Michael McHenry, explained his unique approach in an interview with the Northwest Arkansas Community College paper Eagle View.
Gathering Storm Magazine is a brand new Fayetteville based publication focused on short stories under 2,000 words. GSM will publish stories in a wide variety of genres, including fantasy, horror, science fiction, steampunk, weird, lovecraftian, sword & sorcery. The magazine will also include art, poetry, comics, and more… McHenry said the inspiration for Gathering Storm Magazine came one day when he kept hearing different idioms people used. "For some reason, I heard quite a few that day and kept thinking, Hmmm, that would make a good story," McHenry said. "The idea caught on like wildfire and I thought that a dedicated magazine to showcasing these types of stories sounded amazing." Michael McHenry started the magazine with his mother, Cinda McHenry…

GSM is different from other magazines because every time a submission is sent to the magazine, it is categorized according to a certain theme… Issue #1 will contain four stories. First, "Revenge is a dish best served cold," second, "People who live in glass houses shouldn't throw stones," third, "Knock on wood," and finally, "Break a leg."… "The themes change throughout the year for every new issue but all relate to a particular old saying, proverb, or adage that people know so well," McHenry said… GSM will be published every two months.
The first issue was published in February 2017; issue #2 arrived right on time earlier this month. Issues are available in digital formats for $4.99, and in print for $11.99. The editors sent us a PDF copy of the first two issues, and I must say I was immediately impressed with the professional layout and design, and the interior artwork. Here's a few samples.
[Click the images for bigger versions.]
Let's kick it off with issue #1. Here's "Upside of Logging," by David J. Gibbs, illustrated by Matthew Attard.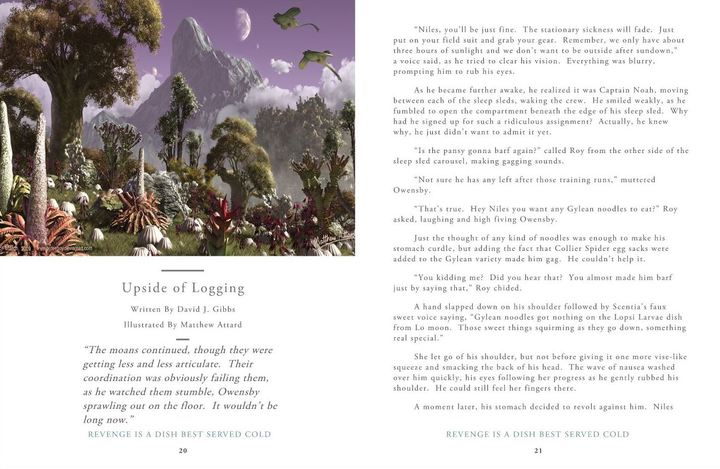 "Ritual," written by Alf Seegert and illustraed by Feliks Grzesiczek, is an interactive story. Here's editor Michael McHenry again.
GSM is doing exclusive things that cannot be found elsewhere, such as including publication of interactive fiction. "You can choose your own options throughout the story and overall having the reader become much more engaged with our publication that what is currently being offered everywhere else," McHenry said.
The interactive fiction is splendidly well designed in the PDF version — slick, responsive, and easy to navigate. It's well worth checking out.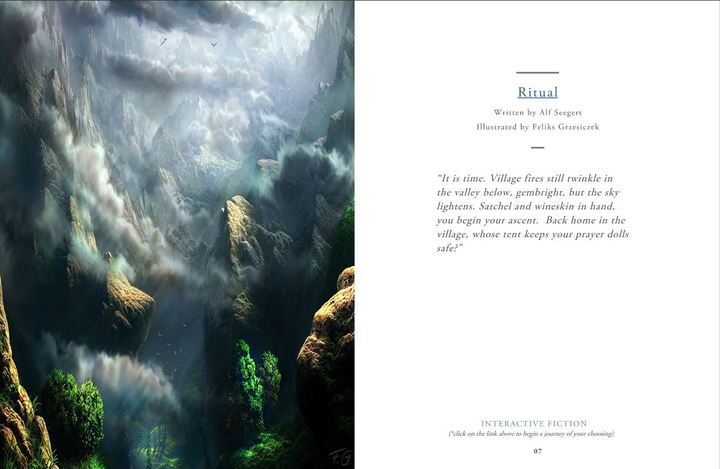 The cover of issue #1, Lighthouse at Stora Bält, is by Anton Melbye (1818-1875). It is 78 pages, priced at $11.99 in paperback. You can purchase a PDF for just $1.99 at the website.
Here's the back cover of issue #1, Wanderer in the Storm, by Julius von Laypold (1806-1874).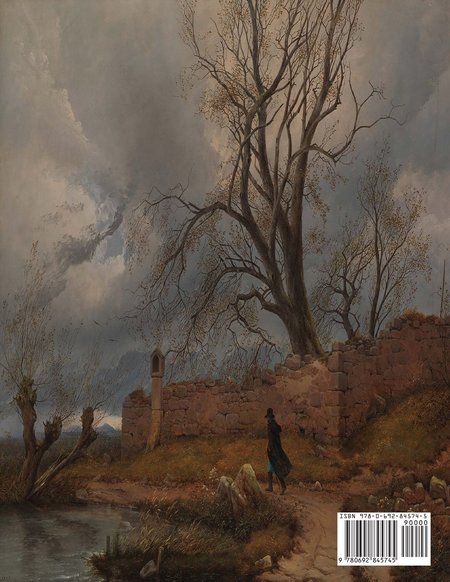 Issue #2 is now available, and you can sample it on the magazine's website. Here's three stories with the theme Hell Hath No Fury Like a Woman Scorned, including "The Morning After," by Mike Murphy, "Poppet," by Emma Hines. and "The One" by Jonathan Ochoco.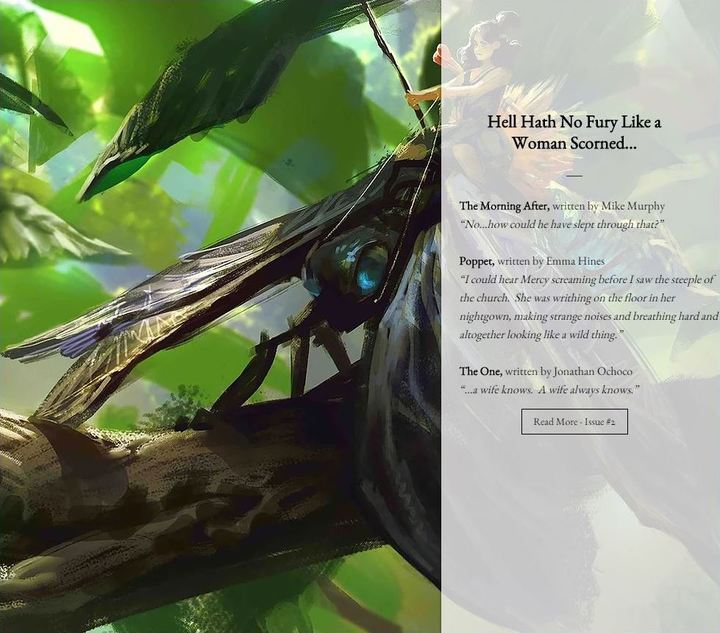 And "The Greatest Show on Earth," written by Lena Ng (with the theme If it ain't broke, don't fix it…).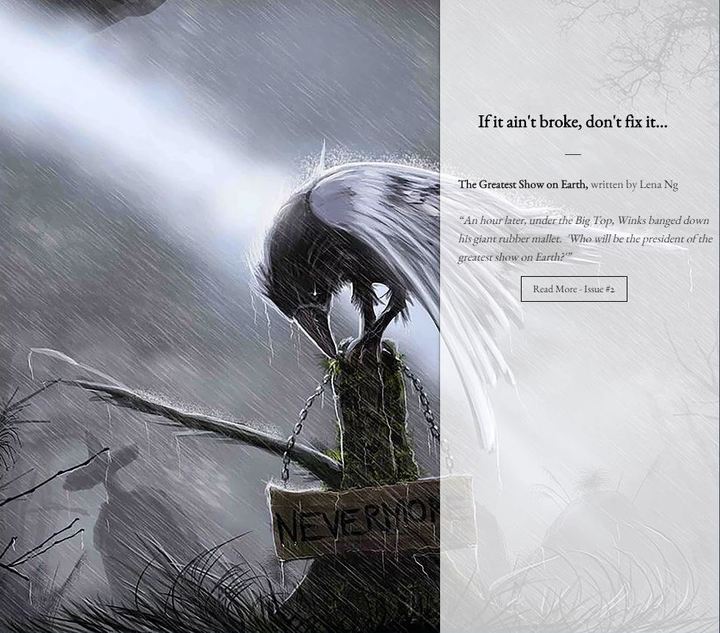 Issue #2 is 68 pages, priced at $11.99 in print, and $4.99 in a variety of digital formats, including epub, Kindle, and iBooks. You can purchase a PDF for just $1.99 at the website.
Gathering Storm Magazine is edited by Michael McHenry and Cinda McHenry. Learn more at the website.
Our Late March Magazine Rack is here. See all of our recent fantasy magazine coverage here.