Ellery Queen Mystery Magazine, Vol. 149, Nos. 1 & 2 (January/February 2017)
Ellery Queen Mystery Magazine, Vol. 149, Nos. 1 & 2 (January/February 2017)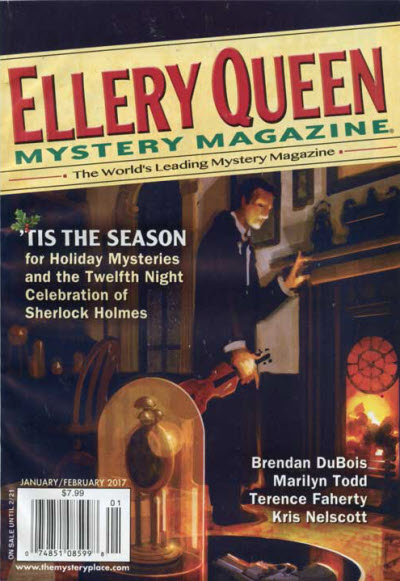 So how are things going in "The World's Leading Mystery Magazine?" Quite well, as it turns out, despite some significant format changes that began in the January/February 2017 issue. To save on printing and shipping costs, they've made the switch from monthly to bi-monthly issues, but made up for it by providing twice as many pages per issue, meaning that long-time subscribers won't have to sacrifice a single page of mystery goodness. This issue, for example, has seventeen tales of crime and deduction.
It opens with "A Slaying Song Tonight" by Vicki Weisfeld. Honestly, I had trouble keeping track of all the characters in this one, so that the revelation of "whodunnit" kind of turned into "whowuzzthat." Basically, one of a group of Christmas carolers commits a murder on their caroling route and it's up to two of those carolers to suss out the guilty party.
"Flowing Waters" by Brendan Dubois was easily my favorite story of the whole bunch, concerning a military veteran who deals with her PTSD by adopting a dog who's seen her own share of violence. Don't feel ashamed if you cry by the end of this one.
"The Twelve Days of Dunwich" by Barbara Nadel provides a rare turn into supernatural territory with a crime story in which the narrator is the victim, who is dead … but not quite gone.
"The Children of Espiritu Santo" by David Dean concerns a gang that's terrorizing a small town, specifically a church where a possible holy relic has recently been discovered.
"After Closing Time" by Nova Lee Maier is another one of those "plot to murder the spouse goes horribly awry" stories, complete with an appropriate O. Henry-style twist at the end.
"Night Terrors" by Owen Leddy is another standard trope story, this time it's the one about the man who dreams of committing a murder every night, unsure why he's plagued by the recurring dreams and terrified that those dreams will soon come true.
"Exposure" by A.J. Wright is a creepy little tale about a murdered photographer and some missing photographs that expose both the killer and the motive.
"Slay Belles" by Marilyn Todd concerns a pair of good samaritans who just happen to be running a money laundering service when they're not delivering harsh justice.
"The Engineer's Thumb" by Terence Faherty is the first of two Sherlock Holmes stories in this issue. Don't worry; the thumb was only bruised, not severed.
"Glock" by Bill Pippin is a brief piece that veers into a slightly preachy plotline about the dangers of concealed carry laws.
"The Client, the Cat, the Wife, and the Autopsy" by Peter Hochstein is a fun little piece about a private detective hired to prove that a dead cat was not murdered by the man who was pet-sitting it. And while the pet-sitter's innocence remains in question until the end, it becomes obvious quickly that SOMEBODY killed the poor thing.
"The Game" by M. Soni (his first professional story sale – congratulations!) concerns a couple who decide to spend some time out in the country while the woman copes with late-term pregnancy and the man loses himself in a new game he's designing. Not exactly a crime or a mystery, but a tense study in isolation and obsession.
"Tom Wasp and the Disappearing Philosopher" by Amy Myers centers on a nosy chimney-sweep trying to get to the bottom of a murder mystery involving a missing woman and the philosopher who claims to know what happened to her … only to disappear himself.
"Ask the Field Mice" by James Powell has a private investigator as the main character, but this is more of a "sting" than a story of deduction, as the protagonist and his friends already know whodunnit and decide to exact a rather elaborate revenge scheme.
"Agony" by Jane Jakeman is a brief little piece about an "agony aunt" columnist whose own dark secrets threaten to be revealed.
"The Adventure of the Disguised Passenger" by Jonathan Turner is the second Sherlock Holmes story in this magazine and has a standard three-suspect set-up. A master-of-disguise is hiding on a passenger ship and only three of those aboard could possibly be him. Holmes and Watson board the ship and systematically rule out each of the three, leaving them with no suspects and a very different solution than initially expected.
Finally, there's "Blaming the Arsonist" by Kris Nelscott (pseudonym of Kristine Kathryn Rusch), which is a very close second for my favorite story in the magazine. Again, not much of a mystery here as someone is setting fires to campus buildings at UC Berkeley in 1969. The main character runs a women's gym that teaches self-defense courses and the author does a wonderful job of showing all of the limits that women suffered in a time that really wasn't all that long ago.
Frankly, I prefer my mysteries to be puzzle stories rather than crime dramas, but there's a wonderful assortment of both types of stories (and some strange stuff in-between) available in this issue.
---
Michael Penkas has been writing horror, mystery, science fiction, and fantasy stories for years. His first mystery novel, Mistress Bunny and the Cancelled Client, is available in print and electronic editions. Learn more about his work at michaelpenkas.com.