Future Treasures: In Calabria by Peter S. Beagle
Future Treasures: In Calabria by Peter S. Beagle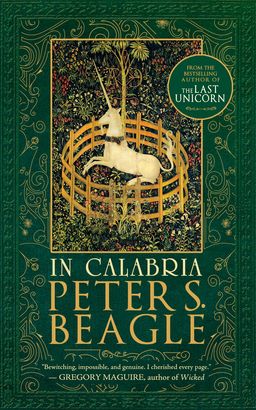 Peter S. Beagle, author of The Last Unicorn and The Folk of the Air, is one of the finest writers we have, and a new Beagle novella is a major event.
In Calabria, the tale of a lonely farmer in Italy's scenic Calabria who finds himself a worldwide sensation when his farm becomes a haven for a host of unicorns, is a highly-anticipated return to the subject that made him famous. It's available in trade paperback from Tachyon on Valentines' Day.
Claudio Bianchi has lived alone for many years on a hillside in Southern Italy's scenic Calabria. Set in his ways and suspicious of outsiders, Claudio has always resisted change, preferring farming and writing poetry. But one chilly morning, as though from a dream, an impossible visitor appears at the farm. When Claudio comes to her aid, an act of kindness throws his world into chaos. Suddenly he must stave off inquisitive onlookers, invasive media, and even more sinister influences.

Lyrical, gripping, and wise, In Calabria confirms Peter S. Beagle's continuing legacy as one of fantasy's most legendary authors.
Our previous coverage of Peter Beagle includes:
Future Treasures: Summerlong
The Mystery of Peter S. Beagle's I'm Afraid You've Got Dragons
How to Support Peter S. Beagle with The Last Unicorn Blu-ray by Ryan Harvey
The Secret History of Fantasy, edited by Peter S. Beagle
In Calabria will be published by Tachyon Publications on February 14, 2017. It is 176 pages, priced at $19.95 in trade paperback and $9.99 for the digital edition.