New Treasures: The Secret History of Fantasy, edited by Peter S. Beagle
New Treasures: The Secret History of Fantasy, edited by Peter S. Beagle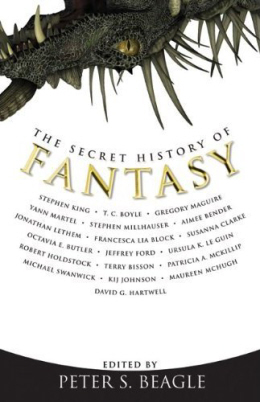 This book has been sitting on my desk since I bought it from Jacob Weisman, publisher of Tachyon Publications, at Wiscon. My desk isn't all that big, so every time my to-do list topples over, or I tell the kids to get rid of the copies of Titan Quest and, I dunno, maybe get some homework done for a change, there it is.
The problem with these anthologies is that they're my weakness. They suck me in. I can resist the novels because, you know, I'm not ready for that kind of commitment. But the anthologies… they're just harmless diversions, right? And when I sit down to finally get that Goth Chick post formatted for Sue, or clear out a few hundred ageing e-mail from the Black Gate in-box… well, one quick story first can't hurt. And when the kids find me in the big green chair it's two hundred pages later.
So, maybe I peeked at this one a bit.  Probably when I should've been answering that e-mail you sent me in August. But you'd understand if you had a copy of The Secret History of Fantasy in your hot little hands like I do.
Peter Beagle, who's been conducting something of a one-man revolution in short fantasy over the last decade himself, has compiled a terrific collection of modern fantasy — the oldest stories here, Robert Holdstock's "Mythago Wood" and Stephen King's "Mrs. Todd's Shortcut," are from 1981 and 1984, respectively.  The book includes some of the most acclaimed fantasy tales in the intervening decades, including Steven Millhauser's "The Barnum Museum," Terry Bisson's "Bears Discover Fire," Neil Gaiman's "Snow, Glass, Apples," Jeffrey Ford's "The Empire of Ice Cream," and stories from Michael Swanwick, Jonathan Lethem, Maureen F. McHugh, Gregory Maguire, T.C. Boyle, and more.
There's also an intro from Beagle, as well as two long essays, "The Critics, The Monsters, and the Fantasists," by Ursula K. Le Guin, and "The Making of the American Fantasy Genre," by David G. Hartwell.  Taken together, it's an impressive package.  And a highly distracting one — take my word for it.