Fantasy Scroll Magazine on Hiatus
Fantasy Scroll Magazine on Hiatus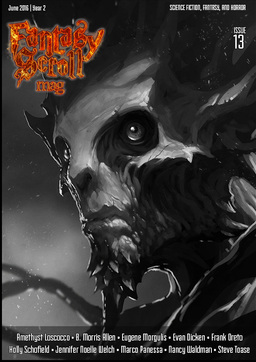 Fantasy Scroll Magazine has not published an issue since June of this year. Normally that wouldn't concern me (Black Gate chugged along merrily for years publishing roughly one issue per year), but Fantasy Scroll has had a nearly flawless bi-monthly schedule since it first appeared in April 2014.
So I reached out to publisher Iulian Ionescu this week to find our what's up. Here's what he told me.
As months went by and life got more and more complex (new jobs, kids in new school, etc.) it seemed unfair to put out the magazine without 100% energy put into it. I'd rather not go on if I can't produce the level of quality I set my mind to. So, I put the magazine on temporary hiatus hoping that I can turn it back up at some point.

I can't guarantee when this will be and in the meantime I am releasing first rights back to all authors that have been accepted and not yet published. I sure hope that sometime in the future I will be able to produce the Year 2 anthology because that was a year packed with great stories!
I'm bummed to hear that. Fantasy Scroll is a fine magazine; in the last two years it published original fantasy from Sarah Avery, Ken Liu, Robert Reed, James Van Pelt, Piers Anthony, Laurie Tom, Charles Payseur, and many others. They were especially friendly to new and emerging authors, and the magazine was an excellent place to discover intriguing new writers. Their non-fiction was also enjoyable, and the TOC for each issue was typically packed with interviews, book reviews, science articles, artist spotlights, and film reviews. Their Year One anthology, Dragons, Droids and Doom, was published in November 2015.
Fantasy Scroll Magazine appeared exclusively online and was edited by Iulian Ionescu, Frederick Doot, and Alexandra Zamorski. The last issue was #13; see the complete contents of the final issue here. We last covered the magazine with issue 12.