Fantasy Scroll Magazine 12 Now Available
Fantasy Scroll Magazine 12 Now Available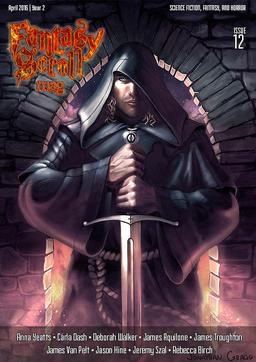 The 12th issue of the online-only Fantasy Scroll Magazine, cover dated April 2016, is now available. In his editorial Iulian Ionescu gives us a sneak peek of the contents. Here's a snippet:
The fiction section opens with "Mother Salt and her Sisters" by James Troughton, a story that brings a fresh new look to the myth of the mermaid, and adds a darker than usual twist. Next is "Apprentice" by James Van Pelt, a story about the relationship between the mentor and mentee, filled with magical mystery that will keep you guessing through the end. Jason Hine's "Prosperity's Shadow" follows, set in a medieval-type of fantasy world where magic is used to control the masses, and we observe the struggle of the enforcer who has to deal with the weight that his job puts on his conscience. "The Memory of Huckleberries" by Rebecca Birch is sure to bring a tear to your eye. It's a heartwarming story of love, sacrifice, and loss…

"Boo Daddy's" by Anna Yeatts follows, a tale set in the Wild West, with a little twisted twist that will definitely creep under your skin. Intrigued? We end the fiction section of the issue with "Skies of Sand and Stee"l by Jeremy Szal, a science fiction story that follows the protagonist in his quest to stop mass exploitation in a world where entire cities float above ground.

Issue 12 continues the epic adventures of Shamrock in a new installment titled "Shadows," written by Josh Brown with art by Alberto Hernandez. The non-fiction section includes interviews with authors Angela Slatter and Brian Staveley, a book review for God of Clay by Ryan Campbell and a movie review for 10 Cloverfield Lane, directed by Dan Trachtenberg.
Here's the complete table of contents.
Fiction
"Mother Salt and her Sisters" by J. R. TROUGHTON
"Prosperity's Shadow" by JASON HINE
"The Memory of Huckleberries" by REBECCA BIRCH
"My So-Called Life in Reruns" by JAMES AQUILONE
"Apprentice" by JAMES VAN PELT
"What Was Meant to Be Buried" by CARLA E. DASH
"Beyond the Turning Orrery" by by DEBORAH WALKER
"Boo Daddy's" by ANNA YEATTS
"Skies of Sand and Steel" by JEREMY SZAL
Graphic Story: Shamrock #7 – Perseverance by JOSH BROWN & ALBERTO HERNANDEZ
Non-Fiction
Issue 12 Introduction by IULIAN IONESCU
Interview with Author Angela Slatter
Interview with Author Brian Staveley
Book Review: God of Clay (Ryan Campbell)
Movie Review: 10 Cloverfield Lane (Directed by Dan Trachtenberg)
See the complete contents of the current issue here.
Fantasy Scroll Magazine is edited by Iulian Ionescu, Frederick Doot, and Alexandra Zamorski, and published bi-monthly in Mobi, epub, and PDF format; issues are also for sale through Amazon, B&N, Smashwords, Kobo, Weightless Books, and Google. Individual issues are $2.99, a 4-issue subscription is only $9.99. Learn more at their website.
The cover this issue is "Monk" by Jonathan Gragg.
We last covered the magazine with issue 11.
See our Late April Fantasy Magazine Rack here, and all of our recent Magazine coverage here.