Fantasy Scroll Magazine 11 Now Available
Fantasy Scroll Magazine 11 Now Available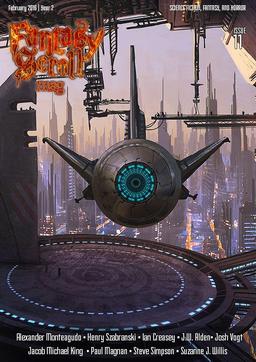 The eleventh issue of the online-only Fantasy Scroll Magazine, cover dated February 2016, is now available. In his editorial editor Frederick Doot gives us a sneak peek of the contents. Here's a snippet:
We start 2016 with the heartfelt and enchanting "Sundark and Winterling" by Suzanne J. Willis featuring one of the most extraordinary homes you could imagine. The story hits all the right notes. We then move on to Paul Magnan's "Red Cup," a unique story that takes an inside look of trials and tribulations of a flower; no, it's not all roses for our hero Red Cup. Next we are swept into a chaotic world with Stephen Walter Simpson's "The Water Moon" following the fascinating life, and secret to some, of the lead character, Ivan.

We welcome another contribution by J.W. Alden, this time a flash fiction gem, "Battle Lines" which hits us early and hard, as the best science fiction flash stories can do. How can you settle the hostilities and egos and a decision between rival guildsman? "Talking with Honored Guests" by Alexander Monteagudo may provide one fiery way how.

Fantasy Scroll Magazine was long overdue for a pet alien love story, and we found a beaut with Ian Creasey's "How I Lost Eleven Stone And Found Love," a much more endearing story than the title suggests. We are happy that "The Great Excuse" by Jacob Michael King has found a home here at FSM; I won't give much away, but I will say that Lovecraft would be proud. "The Velna Valsis" by Henry Szabranski is short, but sometimes a short jab to the gut is all you need to make your point, and this one hits the reader hard.
The unintentional running theme of loss, fitting for the dead of winter, closes out Issue eleven with the haunting and disturbing tale "Have You Seen Me?" by Josh Vogt. This is a story you want to see, and a final scene you may not forget. In addition, the fiction section includes another installment in Josh Brown's graphic story, Shamrock — Episode 6, Perseverance.

Our non-fiction section includes entertaining and informative interviews with Karri Thompson, author of the Van Winkle Project series and A.L. Davroe, author of several YA novels. The section also includes a book review of Bruce Edward Golden's Tales of My Ancestors and a movie review of the dystopian adventure Turbo Kid, which flew under the radar in theaters last summer.
Here's the complete table of contents.
Fiction
"Sundark and Winterling" by SUZANNE J. WILLIS
"Red Cup" by PAUL MAGNAN
"The Water Moon" by STEVE SIMPSON
"Battle Lines" by J. W. ALDEN
"Talking with Honored Guests" by BY ALEXANDER MONTEAGUDO
"How I Lost Eleven Stone and Found Love" by IAN CREASEY
"The Great Excuse" by JACOB MICHAEL KING
"The Velna Valsis" by HENRY SZABRANSKI
"Have You Seen Me?" by JOSH VOGT
Graphic Story: Shamrock #6 – Perseverance by JOSH BROWN & ALBERTO HERNANDEZ
Non-Fiction
Interview with Author Karri Thompson
Interview with Author A.L. Davroe
Artist Spotlight: Jeremy Vickery
Book Review: Tales of My Ancestors (Bruce Edward Golden)
Movie Review: Turbo Kid (François Simard, Anouk Whissell)
See the complete contents of the issue here.
Fantasy Scroll Magazine is edited by Iulian Ionescu, Frederick Doot, and Alexandra Zamorski, and published bi-monthly in Mobi, epub, and PDF format; issues are also for sale through Amazon, B&N, Smashwords, Kobo, Weightless Books, and Google. Individual issues are $2.99, a 4-issue subscription is only $9.99. Learn more at their website.
The cover this issue is Fueling Station by Jeremy Vickery
We last covered the magazine with issue 10.
See our Mid-March Fantasy Magazine Rack here, and all of our recent Magazine coverage here.