New Treasures: The Charmed Children of Rookskill Castle by Janet Fox
New Treasures: The Charmed Children of Rookskill Castle by Janet Fox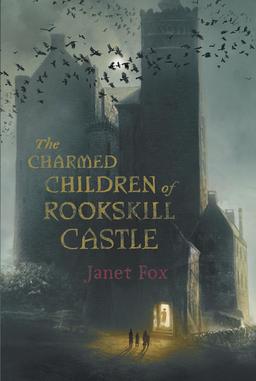 The prolific Janet Fox, who wrote dozens of fantasy and SF stories between 1970-1995, as well as the Scorpio series (under the name Alex McDonough), was best known in later years as editor and publisher of the weird fiction journal Scavenger's Newsletter. She died in 2009, so you can imagine my surprise when I saw a brand new novel with her byline arrive last week.
Turns out this isn't the same Janet Fox. This Janet Fox lives in the UK, and is the author of Sirens, Forgiven, and Faithful. The Charmed Children of Rookskill Castle is her fourth novel, a spooky tale of ghosts, ruined castles, and nazis. That's all I need to know. I'm in.
"Keep calm and carry on."

That's what Katherine Bateson's father told her, and that's what she's trying to do: when her father goes off to the war, when her mother sends Kat and her brother and sister away from London to escape the incessant bombing, even when the children arrive at Rookskill Castle, an ancient, crumbling manor on the misty Scottish highlands.

But it's hard to keep calm in the strange castle that seems haunted by ghosts or worse. What's making those terrifying screeches and groans at night? Why do the castle's walls seem to have a mind of their own? And why do people seem to mysteriously appear and disappear?

Kat believes she knows the answer: Lady Eleanor, who rules Rookskill Castle, is harboring a Nazi spy. But when her classmates begin to vanish, one by one, Kat must uncover the truth about what the castle actually harbors — and who Lady Eleanor really is — before it's too late.
The Charmed Children of Rookskill Castle was published by Viking Books for Young Readers on March 15, 2016. It is 400 pages, priced at $16.99 in hardcover and $10.99 for the digital edition.