Cemetery Dance 74/75 Now on Sale
Cemetery Dance 74/75 Now on Sale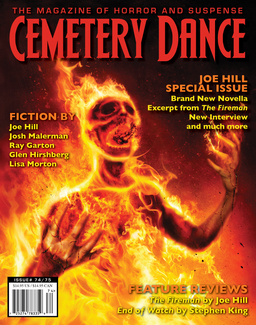 I'm used to Cemetery Dance being a slim newsprint publication, so imagine my surprise on Saturday when I saw the massive 200-page trade paperback at right in the magazine rack at Barnes & Noble (click the image for a full-sized version).
The huge double issue is the biggest issue of CD I've ever seen. On the website, editor Richard Chizmar explains the necessity for this Goliath-sized installment.
This special issue not only features an original, never-before-published novella by Joe Hill, but the issue grew so large that we have to publish it as our FIRST-EVER oversized trade paperback version of the magazine and our first double issue since #17/18 way back in the day! This change is just for this issue, so we can fit all of the amazing content we received. We'll be back to normal with the fall issue. All subscribers to the magazine WILL receive this special issue with your subscription, no additional purchase is required.
Cemetery Dance #74/75 is a special Joe Hill issue. It was published in both trade paperback (available now for $14.95) and a signed limited-edition hardcover (shipping soon for $60). It has new fiction from Joe Hill, Glen Hirshberg, Bruce McAllister, Ray Garton, and others. Here's the complete contents.
Fiction
"The Rich Are Different" by Lisa Morton
"Matter" by Josh Malerman
"Bad Luck" by K.S. Clay
"Seed" by Erinn L. Kemper
"Autophagy" by Ray Garton
"Blue House" by Bruce McAllister
"The Lazarus Effect" by JG Faherty
"India Blue" by Glen Hirshberg
"Eyes Like Poisoned Wells" by Ian Rogers
Features
Joe Hill's new, never-before-published novella, "Snapshot, 1988"
Joe Hill's modified excerpt from The Fireman called "How We Got Out of The Furnace"
Joe Hill essay by Peter Crowther
Joe Hill interview conducted by Bev Vincent
Bev Vincent's Feature Review of The Fireman
Bev Vincent's Feature Review of End of Watch
The Usual Suspects
"Words from the Editor" by Richard Chizmar
"Stephen King News: From the Dead Zone" by Bev Vincent
"MediaDrome" by Michael Marano
"The Mothers and Fathers Italian Association" by Thomas F. Monteleone
"The Last 10 Books I've Read" by Ellen Datlow
"Horror Drive-In" by Mark Sieber
"Cemetery Dance Reviews"
The cover artist is Vincent Chong. Interior art is by Jihane Mossalim, Erin Wells, Dan Moran, Glenn Chadbourne, Frankie Washington, and Steve Gilberts.
We last covered Cemetery Dance with issue 73.
Cemetery Dance is edited by Richard Chizmar and published by Cemetery Dance Publications. It appears twice a year (roughly). Issue #74/75 doesn't have a cover date that I can find, but the website says it was published in October 2016. It is 200 pages, with a cover price of $14.95. Order copies directly at the CD website.
See our Late November Fantasy Magazine Rack here, and all of our recent Magazine coverage here.