Running with the Post-Apocalyptic Dogs: An Interview with Comic Creators Sam Sattin and Chris Koehler
Running with the Post-Apocalyptic Dogs: An Interview with Comic Creators Sam Sattin and Chris Koehler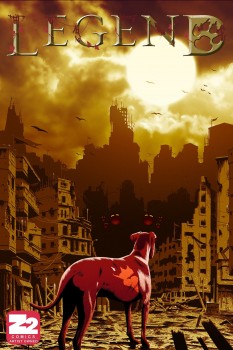 In May, Z2 Comics is going to be publishing Legend, a new series by writer Sam Sattin and artist Chris Koehler. I had previously interviewed Ian McGuity for his Z2 release Welcome to Showside and so when I saw the early news on Legend, I knew I wanted to have a chat with Sam and Chris.
Welcome to both of you and thanks for the chance to chat!
Sam and Chris: Thank you so much for having us. Black Gate magazine for life!
I read an advance copy of Legend. It's strikingly different and I'm buying into the school that describes it as "Post-Apocalyptic Homeward Bound." Can you give our readers a sense of what Legend is and what you were trying to do?
Sam: I love the idea of Legend being referred to as a "Post-Apocalyptic Homeward Bound." But I also like describing Legend as a "Post-Apocalyptic Watership Down… meets The Walking Dead… and/or Game of Thrones?"
The thing that I love so much about Watership Down — along with other Richard Adams books, like The Plague Dogs — is how it employs myth. A much overlooked linchpin of Watership Down's success is its reliance on a religious text, one which turns a story of rabbits journeying from a home threatened by human development into a story of prophecy and redemption.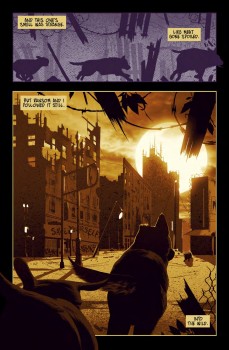 One of the ideas we had going in was that Legend would attempt to channel that element, while playing with others as well, like fantasy, science fiction, and horror. We want this to be an animal story that pays homage to others, while perhaps marking out some new territory along the way.
Chris: The way I see it, we're trying to tell one small story in a broken world filled with stories. Everything about the writing and art hints at a much larger narrative. Both stories, the tale of the apocalypse and the dog tribe, are about making sense of tragedy and surviving through hope, courage, and resilience.
Animal stories are stories about people, without having people in the cast. Star Trek (and most of scifi and fantasy) touches on a lot of social issues without triggering baggage by having rubber-headed aliens. Were you looking to a non-human cast to look at humanity in that way, or did you choose an all-animal cast for other creative/thematic reasons?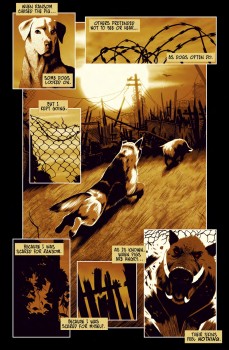 Sam: I think you're absolutely correct that animal stories are about people. But if I could add something, I'd say that they're also about what people don't understand about the non-human world.
To me, animals are braver than people. Selfishness is a trait that they maintain out of a necessity to survive… but ensuring survival also requires a kind of altruism humans have a harder time grasping, particularly in modern, technology-dependent societies.
I see these sort of themes running through some of Hayao Miyazaki's films, like Nausicaa of the Valley of the Wind or Princess Mononoke, as I do with the works of Margaret Atwood.
Though non-human casts provide a great lens through which we can examine ourselves, they also seem to allow us to examine non-humans as well, and what we might need to develop a keener grasp of in terms of the world we inhabit.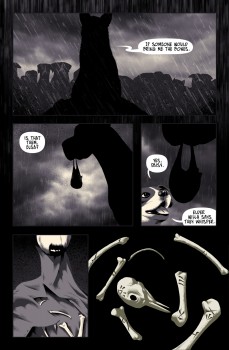 I loved the art! It's stunning and seems to include a lot of somber, film noir visual elements. After the apocalypse the world can look like anything, so what made you choose this aesthetic for this story?
Chris: The story lends itself to the way I normally work, which is dark and moody with lots of detail, and as you mentioned, strong cinematic influences (mostly noir!). I'm also colorblind, I naturally see the world with a more limited palette like dogs do.
I wanted to draw the way dogs might see the world, and use color to express mood and emotion instead of showing the world in the way a human might see it. I also like using lots of texture and spatter in my work, which is a natural fit for the grit and urban decay of a post apocalyptic world.
In a recent comicsalliance.com interview, you mention that Legend got picked up pretty quick. Z2 seems to be a really interesting publisher. What made you guys go to them as creators?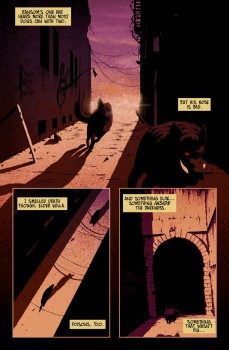 Sam: Z2 is a really interesting publisher. Not just because of the fact that they publish a diverse array of high quality books, but because they really believe in their creators and give them a ton of creative freedom. One really couldn't ask for a better publisher.
They also responded emotionally to Legend, and really got what we were going for right away. It's also fantastic that they're both dog/animal lovers as well.
Chris: Z2 has been great to us. They completely trust our vision and let us run wild in our world. Plus, they've built a really strong line up of creators that I'm proud to call colleagues.
Legend looks great and it's going to be in comic shops in May. Congratulations and thanks for the chance to interview!
Sam and Chris: Thank you so much! Great things are coming for Legend. And we can't wait to show you more of what our world has in store.
If you would like to know more about Sam and Chris, Sam tweets from @samuelsattin, and lives at www.samuelsattin.com, and Chris tweets from @ckoehlerart and showcases his art at www.chriskoehler.com. You can find Legend at your local comic shop, or you can buy digital copies at www.Z2Comics.com.
---
Derek Künsken writes science fiction and fantasy in Gatineau, Québec and tweets from @derekkunsken. His latest story is set in the far, far, far future and is on newsstands now in the April/May issue of Asimov's Science Fiction Magazine.