Making Comics and Animated Shorts: Ian McGinty and Welcome to Showside
Making Comics and Animated Shorts: Ian McGinty and Welcome to Showside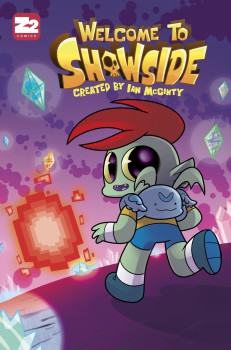 Comic artist Ian McGinty has worked on Adventure Time, Hello Kitty, Fraggle Rock and many other titles, for publishers such as Archaia, BOOM!, Dynamite and now Z2. Ian is making his creator-owned debut with Welcome to Showside at Z2 Comics 28 October, 2015.
Not only that, but Welcome to Showside has also been developed into an animated series, with McGinty serving as showrunner and one of the voice actors. I wanted to e-interview Ian to chat about his successes.
Thanks for the chance to chat, Ian! You must be crazy busy in these last days of October!
Haha, yeah it's definitely been pretty insane on this end, but it's also been super rad and exciting to see everything coming together. A lot of hard work on many people's parts have gone into Welcome to Showside, both the comic and the animated show, and to finally be seeing the end result, it's like, damn, you know? I never expected such a great response from people, and it's still sort of sinking in.
I've read some other interviews you've done, but none of them talked about your own origin story. How did you break into comics as an artist?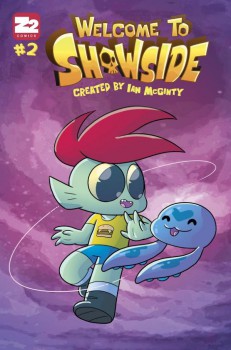 I got into comics in a kinda backward way. I was playing music as a drummer and then, later, a singer for a screamo type band (we were really bad and lame). At shows, I would chill out in the tour van and draw little comics about dumb stuff and I was also designing our merchandise (which was also really bad and lame).
Eventually the band broke up and I was sort of at a loss for what to do next. I loved performing and playing music but hated dealing with the dynamics of 5+ people and their egos, myself included. It's funny how I didn't realize comics and sequential art were basically perfect for me earlier on.
I got into the game sort of late and I've only been working professionally for about 3 1/2 years, but one day it just sort of hit me that comics allowed me to be creative and draw for a living, while maintaining that level of it being a "real job", as opposed to a more nebulous area of, say, "painter" or "illustrator". Obviously those are incredibly cool jobs, but focusing smaller allowed me to learn things like negotiating contracts and for the most part I was amazed you could actually make a living drawing funny books.
I enrolled in an art college and made a lot of cool contacts and met tons of people in the industry, and eventually I started landing gigs working on licensed properties. I was good at sticking to style guides (rules and structures to maintain character design as seen on television or whatever), but also good at twisting things a bit to make it more my own, if that makes sense.
So I actually started my career in comics working on other people's properties. It isn't until now that I've finally been able to push my own content out there. It's all really exciting!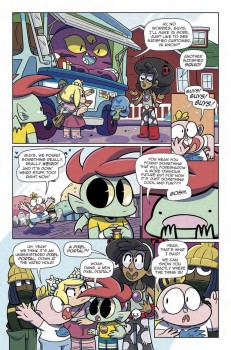 You're bit now a veteran artist (your creator credits at Comicvine.com is at 62 comics and counting). What made you want to sit in the writer's seat too? What excited you about your idea for Welcome to Showside?

I've definitely always wanted to create and write my own stories, but it wasn't until recently I felt I was ready to "play with the big kids", so to speak. I wanted to make sure I was absolutely ready to dive in and deal with structuring an on-going all-ages comic, interacting with fans, handling the pressures of both writing and drawing duties, as well as maintaining relationships with my colleagues and friends ('cause otherwise I'd go insane).
And, yeah, the concept and development of Welcome to Showside really excited me. Welcome to Showside has been an attempt to combine my two favorite types of comics/genres: all-ages and horror.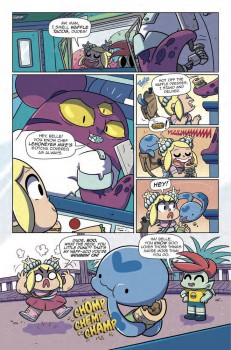 Is Showside straight up horror? No, but there are elements there combined with a fun, adventure tale about three special kids and the rigors of constantly battling demons from the Nexus. I'm mostly pumped about exploring the mythos behind Kit, Moon and Belle, as well. There's some heavy stuff on it's way and I hope people are ready for the darker aspects of what is, at the surface, a cute all-ages story about monsters.
Welcome to Showside is for kids, but there's a bit of epic structure to it, in that Kit is the son of The Shadow King. I would have expected the themes to be around that father-son axis, but you also have two other main characters with situations that force them to hide things from their families or friends. That broadens the canvas thematically. Do you have a strong sense of the themes you want to explore or is that part of the exploration?
I definitely have a good sense of the initial themes of Welcome to Showside, issues of legacy and expectations from people you look up to, or don't look up to, but I also recognize things shift as you continually work on a property. For example, Belle's family lineage has recently begun changing with the introduction of a new character in issue 2, something I didn't plan, and her role is already moving away from a basic warrior-type ass-kicker to something fairly complex.
The three main characters, and to an extent some minor ones, face aspects of their life that directly clash with the thoughts and opinions of parents, guardians and even monsters. It's interesting to me because I remember when Welcome to Showside was, literally, a doodle of a little fish looking kid standing in line with much bigger and scarier creatures. Pretty weird to see how far it's come from that.
So, every creator has the dream of TV and movies. Yours becomes real with the animation short debut coming up soon. What's the origin story of animated short version of  Welcome to Showside?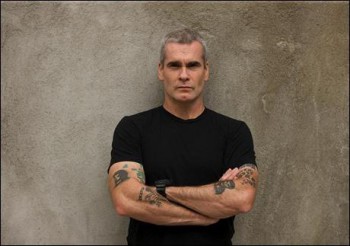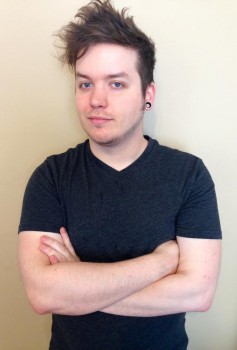 Yeah, wow, that was pretty amazing. Essentially, I proposed an idea for the first issue of the comic that Modern Prometheus, the other half of Z2 Comics, felt was strong enough to turn into an
animated short. From there things moved pretty fast and next thing I knew I was in a recording booth with Henry Rollins and other really talented voice actors, directing everyone and even providing the voice of the main character myself.
It was cool, 'cause the actors really enjoyed the script and the concept, something I was nervous about. Very flattering and rad, you know? Also, extremely surreal, ha. But it was a really great time and working with a fairly large team on something I created was a much more positive experience than I was led to believe. I'm really lucky in that regard.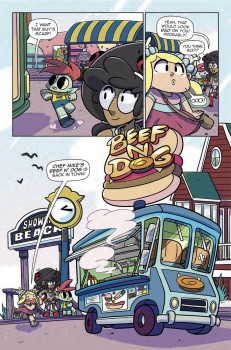 Not everyone may know what a showrunner is. Can you describe that job? How many writers do you supervise and is it a big gearswitch for you to get others to create for you instead of you creating in other people's worlds?
Basically, I make sure my vision for the animation happens, which can include supervising and fielding ideas from writers, or directing animators, making sure designs are how I feel they should be, that sort of thing.
I was able to work with an extremely talented group of animators who understood what I wanted and what I was trying to accomplish. The writing team was actually quite small, mainly me and the other producers, but the bulk of the work happened with the animation people and that's where Welcome to Showside really shines.
It look great, and its full of fun and action and just cool stuff. It's definitely a big of a change for me, but I also have a directorial approach to the comic in picking out cover and back-up artists and making sure everything is going according to plan. It's a lot to handle, but I'm enjoying seeing the process and I do tend to thrive under pressure… well, mostly.
How are you managing what must be tremendous "opening night jitters" with both an animated short and comic series debuting this week?
Haha, mainly I'm trying to focus on my other projects so I don't dwell too much on the two releases. I do a lot of licensed stuff still, and a couple very big projects are headed my way, so it's been easy to bury myself in work. I'm also watching a lot of Fargo the TV series. It's really, really good.
I really want to thank you for this time, Ian.
Welcome to Showside the comic is in comic book shops on the 27th of October.
Derek
Derek Künsken writes science fiction, fantasy and horror in Gatineau, Quebec. He lurches from tweet to tweet @derekkunsken. He just sold his seventh story to Asimov's Science Fiction, to appear sometime in the new year.