Superhero TV: That's Agent Carter To You
Superhero TV: That's Agent Carter To You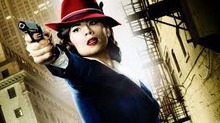 I don't know how I forgot "superhero" when I wrote about characters and their jobs a couple of weeks ago, but I was powerfully reminded of my lapse – and inspired – by two excellent posts from my friends and fellow BG bloggers, Derek Kunsken (Supergirl) and Marie Bilodeau (The Flash). Today I'd like to put in a word for the Marvel TV universe, where there's at least one heroine that's neither an alien, nor a human with superpowers: Peggy Carter of the Strategic Scientific Reserve (SSR) is 100% human.
A number of factors make this show stand out for me. For one, the creators have managed to pull off a series that is a little bit prequel, a tad bit sequel, as well as a sort of spinoff, that doesn't rely on deep knowledge of either Captain Americ or Agents of Shield – or anything else in the Marvel universe for that matter. Plus, it avoids the drawback of most prequels: you know who isn't going to die.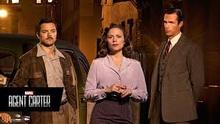 A lot of attention has been paid to Supergirl, from the female-empowerment angle, but I'd argue that Agent Carter is more significant from the feminist point of view precisely because Peggy Carter is a human woman, not an alien. Supergirl, as a character, is a fine example of what feminist criticism calls "the other," the idea, in part, that women can only be strong and "super" if they're somehow not human.
That's where the post-war period of the show is significant. By choosing to tell the story of a woman in that time period, the creators of the show were forced to address the treatment of women in that era. Supergirl is not only non-human herself, but she and her human sister live in our time, where attitudes towards women, especially in the workplace, have altered considerably since Peggy's day.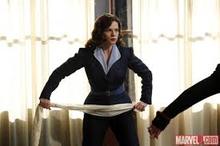 In the very first episode, Peggy experiences something that commonly happened to women in the workplace as men were returning from overseas. Most of us already know that with the shortage of men during WWII, women held many jobs that had been traditionally male. When soldiers returned at the end of the war, these women were expected to return to their former lives, and many of them – Peggy Carter being no exception – saw no reason why they should. In a second-season episode, a pre-war flashback shows us just how far Peggy has come.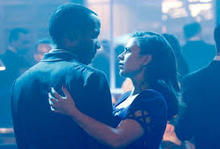 Not that women were the only people who found the post-war world was a lot more like the pre-war one than they were expecting, considering what they'd done during the war. Jason Wilkes, a negro – as they would have put it in those days – physicist, also experiences a level of prejudice and exclusion he'd hoped the war had helped to change. When he and Agent Carter develop a romantic interest in each other, it only underscores how both are "outsiders" in the America of their time.
Still, Agent Carter doesn't spend any more time fighting male oppression than she has to – she spends her time fighting bad guys. Her business-as-usual take on herself and her job speaks louder for women than any number of times that she corrects someone who thinks she's a secretary. Her society's attitude toward women is, in its way, just another accurate historical detail.
Look for more posts in this series as "Superhero TV" continues with Derek Kunsken's DC Legends of Tomorrow on the 27th, and Marie Bilodeau's Jessica Jones on March 4th. Follow along with all the installments:
Watching Supergirl With a 10-Year Old — Derek Kunsken
Remembering Fun: The Flash — Marie Bilodeau
Exploring the Dark Mysteries of Gotham — John O'Neill
That's Agent Carter To You — Violette Malan
Legends of Tomorrow — Derek Kunsken
Arrow — Derek Kunsken
See all of our coverage of Movies & TV here.
---
Violette Malan is the author of the Dhulyn and Parno series of sword and sorcery adventures (now available in omnibus editions), as well as the Mirror Lands series of primary world fantasies. Find her on Facebook and follow her on Twitter @VioletteMalan.