Beneath Ceaseless Skies 192 Now Available
Beneath Ceaseless Skies 192 Now Available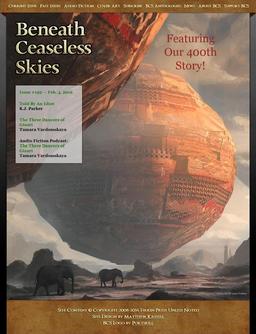 The February 4th issue of Beneath Ceaseless Skies features their 400th story — a damn impressive milestone. BCS has been showcasing the best authors in the business, and promoting and developing new fantasy writers, since 2008. It has become one of the most important periodicals in the business, and you owe it yourself to check it out.
Issue 192 has original short fiction from K.J. Parker and Tamara Vardomskaya, a podcast, and a reprint by the marvelous Rachel Swirsky. Scott Andrews has also changed up the cover art; this issue features "Plains of Another World" by Leon Tukker.
"Told By An Idiot" by K.J. Parker
I accepted that master Allardyce had the potential to write the greatest play ever; a play so good that if God were to summon Mankind before the bar of Heaven and demand to know one good reason why He shouldn't send a second flood and drown the lot of us, all we'd have to do is hand Him the manuscript and there'd be no case to answer. I knew that, in order to write this play, master Allardyce needed to drink himself stupid, get beaten up twice a week, and generally mash himself down into a cheese, like the cider-makers do, before he could ferment and distil his very essence into words on a page. But I have a business to run, and I need crowd-pleasers. Master Allardyce's monument-more-enduring-than-bronze would just have to wait until I retired. Accordingly, I gave him no peace.

"The Three Dancers of Gizari" by Tamara Vardomskaya
It dawned on me that he enjoyed watching me squirm; a proud competent woman but to him just Nahemiah's commoner puppet. "Ten thousand!" I spat out the words intentionally in the heaviest Tavalland accent that the theater had eradicated in me twelve years before. "Ten thousand thalers for your measly sculpture that the Opera rejected!"
Audio Fiction Podcast:
"The Three Dancers of Gizari" by Tamara Vardomskaya
Except that I learned that if they spoke truth, it was not to me.

From the Archives:
"Great, Golden Wings" by Rachel Swirsky (from BCS #28, October 22, 2009)
Lady Percivalia sat motionless for as long as she could so that she could savor the thrill.
K.J. Parker is a pseudonym for British fantasy writer Tom Holt (a fact first revealed on Gary Wolfe and Jonathan Strahan's Coode Street Podcast last year); his latest works include The Last Witness and Savages. Tamara Vardomskaya is a Canadian writer whose fiction has also appeared at Tor.com. The marvelous Rachel Swirsky is a Hugo and World Fantasy Award nominee, and she has won the Nebula Award twice for her short fiction.
The cover art is by Leon Tukker.
Read issue 192 online completely free here.
Beneath Ceaseless Skies is edited by Scott H. Andrews and published twice a month by Firkin Press. Issues are available completely free online; you can also get a free e-mail or RSS subscription.
Firkin Press also sells a Kindle/e-Reader subscription, which includes automatic delivery to your Kindle or other device. A 12-month subscription comes with 26 issues and costs only $13.99. Single issues are available on Kindle and at Weightless Books for 99 cents. Subscribe here.
The magazine supports itself though subscriptions, and also by selling anthologies, including the annual Best of BCS volumes and occasional themed books such as the steampunk anthology Ceaseless West. The anthologies each contain 15-18 stories and cost only $2.99-$3.99.
We last covered Beneath Ceaseless Skies with issue #191.
See our Late January Fantasy Magazine Rack here, and all of our recent Magazine coverage here.