The 2015 Locus Recommended Reading List
The 2015 Locus Recommended Reading List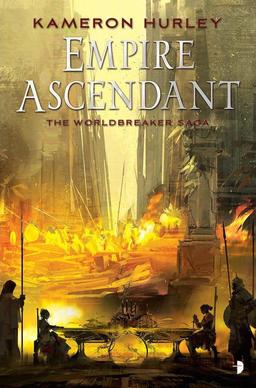 Let's assume that you're a busy guy or gal, and don't have time to read every new book on the shelves, regardless of how damn tantalizing the cover is. Heck, you don't even have time to read the reviews. And let's also assume that you still want to stay on top of the best new books. How on earth are you supposed to manage that?
As usual, Locus magazine makes it easy — by compiling a massive recommended reading list drawn from the consensus vote of Locus editors, reviewers, and outside professionals. All told, they poll some three dozen industry pros to compile the mother of all reading lists, capturing the most acclaimed fantasy novels, SF novels, YA novels, collections, anthologies, Art books, nonfiction, and short fiction of the year. It's an invaluable resource, especially if you're trying to get up to speed in advance of Award season.
Here, for example, is the complete Locus Recommended Reading List of 2015 Fantasy Novels:
Foxglove Summer, Ben Aaronovitch (Gollancz 2014; DAW)
A God in Ruins, Kate Atkinson (Little, Brown; Doubleday UK)
Karen Memory, Elizabeth Bear (Tor)
Nightwise, R.S. Belcher (Tor)
Beneath London, James P. Blaylock (Titan)
The House of Shattered Wings, Aliette de Bodard (Roc; Gollancz)
Prodigies, Angelica Gorodischer (Small Beer)
Wylding Hall, Elizabeth Hand (PS; Open Road)
Empire Ascendant, Kameron Hurley (Angry Robot)
The Buried Giant, Kazuo Ishiguro (Knopf)
The Liminal War, Ayize Jama-Everett (Small Beer)
The Fifth Season, N.K. Jemisin (Orbit)
Killing Pretty, Richard Kadrey (Harper Voyager)
Finders Keepers, Stephen King (Scribner)
Archivist Wasp, Nicole Kornher-Stace (Big Mouth House)
Slade House, David Mitchell (Random House; Sceptre UK)
Uprooted, Naomi Novik (Del Rey)
Savages, K.J. Parker (Subterranean)
The Annihilation Score, Charles Stross (Ace)
Pacific Fire, Greg Van Eekhout (Tor)
The Philosopher Kings, Jo Walton (Tor)
See the complete list here.
We last covered Locus magazine with the December 2015 issue.