December 2015 Locus Now on Sale
December 2015 Locus Now on Sale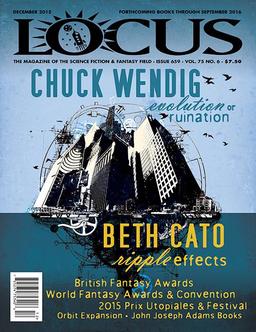 The December issue of the Newsmagazine of the Science Fiction and Fantasy Field features interviews with authors Chuck Wendig and Bet Cato, reports on the 2015 World Fantasy Awards and British Fantasy Awards, a convention report of the World Fantasy Convention, news on the massive Orbit expansion we reported on last month, the Nebula Nominations, author updates on George R.R. Martin, William Gibson, and Neil Gaiman, and many others, US and British Forthcoming Books lists, a column by Kameron Hurley, short fiction reviews from Gardner Dozois and Rich Horton, and reviews of new books from Charlie Jane Anders, Jonathan Strahan, Catherynne M. Valente, Linda Nagata, Cherie Priest, Matt Wallace, Kameron Hurley, Gemma Files, and many others.
In addition to all the news, features, and regular columns, there's also the indispensable listings of Magazines Received, Books Received, British Books Received, and Bestsellers. Plus an obituary for T.M. Wright, Letters, and an editorial. See the complete contents here.
We last covered Locus with the October 2015 issue. Locus is edited by Liza Groen Trombi, and published monthly by Locus Publications. The issue is 62 pages, priced at $7.50. Subscriptions are $63 for 12 issues in the US. Subscribe online here. The magazine's website, run as a separate publication by Mark R. Kelly, is a superb online resource. It is here.
See our December Fantasy Magazine Rack here, and all of our recent Magazine coverage here.