John DeNardo's 2015 Science-Fiction, Fantasy, and Horror Holiday Gift Guide
John DeNardo's 2015 Science-Fiction, Fantasy, and Horror Holiday Gift Guide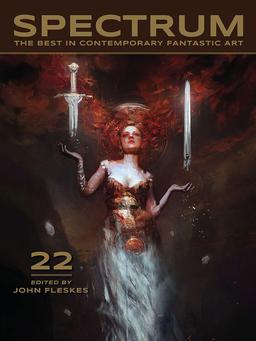 Well, Christmas is over, the gifts are (mostly) unwrapped and, barring that one uncle who always seems to be traveling on Christmas, all the presents have been exchanged. Which means it's finally safe to look at gift-giving guides again (I don't know about you, but all the best ones seem to pop up just as I finish my shopping.) After all, you need some suggestions on what to spend those gift certificates on, right?
Perhaps the best guide I found this year was John DeNardo's 2015 Science-Fiction, Fantasy, and Horror Holiday Gift Guide, published in two parts over at Kirkus Reviews. What makes it so cool? It's packed with deluxe comics, Star Trek and Stars Wars books, cool merchandise, and lots more. Here's his suggestions for how to spend on the art lover in your life.
The go-to gift for your visually oriented loved ones is an art book. Science fiction and fantasy fans would adore Spectrum 22: The Best in Contemporary Fantastic Art edited by John Fleskes. Its 300 pages are jam-packed with an amazingly diverse selection of art, especially considering that they are all spectacular. It's is a book you'll pick up again and again. Or maybe your giftee leans toward the creepy? The Art of Horror: An Illustrated History by Stephen Jones is a visual feast aimed at lovers of horror. It contains an endlessly impressive selection of horror art since the late 19th century. Every page deserves multiple visits.
John has so many ideas, he had to split his list into two parts.
Part One: Star Wars, Star Trek, Dr. Who, and other fine merchandise
Part Two: Comics, Art Books, and a Geeky Grab Bag
The multi-talented Mr. DeNardo, who also edits SF Signal, has much of interest to say on all aspects of our fine hobby. We've highlighted some of his best articles in the past.
John DeNardo on Why I Love Retro Science Fiction
John DeNardo's Five Reasons to Read Short Speculative Fiction Anthologies
John DeNardo's Quick History of Serialized Science Fiction and Fantasy
See all of our recent book coverage here.