October 2015 Locus Now on Sale
October 2015 Locus Now on Sale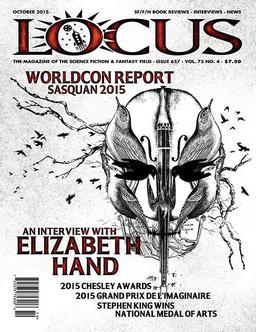 The October issue of the Newsmagazine of the Science Fiction and Fantasy Field features a long interview with author Elizabeth Hand, reports on Sasquan, the 73rd World Science Fiction Convention — including the complete Hugo voting results, a new column by Kameron Hurley, short fiction reviews from Gardner Dozois and Rich Horton, and reviews of new books from Gene Wolfe, Christopher Moore, Ian McDonald, Michael Swanwick, Mercedes Lackey, Paul Tremblay, and many others.
There's also detailed reporting on Stephen King's National Medal of Arts, the 2015 Chesley Awards Winners, the National Book Awards Longlists, and the Ness Fundraiser.
In addition to all the news, features, and regular columns, there's also the indispensable Listings of Magazines Received, Books Received, British Books Received, and Bestsellers. Plus obituaries for Wes Craven and Ned Brooks, and Letters from John Helfers and Michael Bishop. See the complete contents here.
We last covered Locus with the May 2015 issue. Locus is edited by Liza Groen Trombi, and published monthly by Locus Publications. The issue is 62 pages, priced at $7.50. Subscriptions are $63 for 12 issues in the US. Subscribe online here. The magazine's website, run as a separate publication by Mark R. Kelly, is a superb online resource. It is here.
Our mid-September Fantasy Magazine Rack is here. See all of our recent fantasy magazine coverage here.