May 2015 Locus Magazine Now on Sale
May 2015 Locus Magazine Now on Sale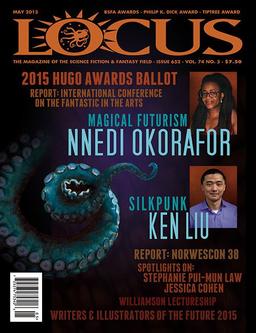 I had a subscription to Locus magazine for over 20 years. It was the only magazine I decided I couldn't live without the year I moved to Belgium, and I paid the exorbitant fees to have my copies mailed overseas every month (and then I paid a small fortune to American Airlines to ship all those issues back to the states when I flew home).
When I was unemployed for three months in 2012, I decided I'd have to cancel at least one of my magazine subscriptions. I noticed that the last nine months of Locus were stacked by my desk, still in their protective mailing wrappers, unopened and unread. Reluctantly, I decided to cancel Locus.
I'm sure you can guess what happened next. I bought an issue of Locus the next time I went to the newsstand. And I started reading it again. I pick up the latest issue, without fail, every month. It costs me more than a subscription…. but hey, I figure, at least this way I'm reading this issues.
Locus is called the Newsmagazine of the Science Fiction and Fantasy Field, and that description is entirely accurate. Every issue is packed with news, reviews, photos, interviews, gossip, convention reports, list of upcoming releases, news on other magazines, and a ton more. It can take you a very long time to read an issue cover to cover (I know — that's the way I read them.)
The May issue includes a detailed breakdown of the 2015 Hugo controversy (including a long quote from Yours Truly — the first time I can recall being quoted in Locus), reports on the International Conference on the Fantastic in the Arts and Norwescon 38, interviews with Ken Liu (The Grace of Kings) and Nnedi Okorafor (Who Fears Death), entertaining short fiction reviews from Gardner Dozois and Rich Horton, plenty of books reviews, and a lot more. See the complete Table of Contents here.
The thing I most love about Locus magazine is that — more than any other magazine I've ever read — it gets me excited about our field. Whether by pointing me to an exciting new short story writer, or letting me know about an upcoming title from a favorite author, or an intriguing review of a new fantasy series, or even something as simple as an advertisement that catches my eye. Month after month, when I close my copy of Locus, I'm fired up to seek out and read new SF and fantasy. And I think that's cool.
We last covered Locus with the March 2011 issue.
Locus is edited by Liza Groen Trombi, and published monthly by Locus Publications. The issue is 62 pages, priced at $7.50. Subscriptions are $63 for 12 issues in the US. Subscribe online here.
The magazine's website, run as a separate publication by Mark R. Kelly, is a superb online resource. It is here.
See our mid-May Fantasy Magazine Rack here, and all of our recent magazine coverage here.