Apex Magazine #79 Now on Sale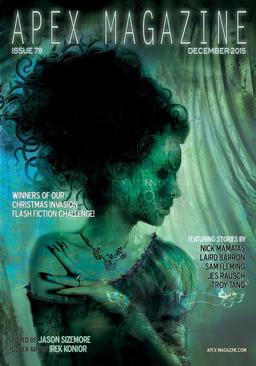 In his editorial this month, Jason Sizemore gives us the usual lowdown on the issue.
This month we bring you original fiction from old and new. We welcome Troy Tang to our pages with the evocative "Aishiteru Means I Love You." The story, his first professional sale, explores the feedback loop of self-loathing and shame of a teen who is bullied online. Nick Mamatas makes a return to speculative fiction with "The Phylactery." Jes Rausch's "Memory Tree" uses an unconventional structure to examine life after death. Finally, Sam Fleming's story "She Gave Her Heart, He Took Her Marrow" is a vivid character piece that, at 6,500 words, ends all too quickly.

We offer two poems this month: "Grotesque" by J.J. Hunter and "Myrrh, and the Sun" by Lara Ek. Jennie Goloboy provides insight into historical fiction with "Shiny Boots and Corinthians: Writing Historical Fiction without Clichés." Andrea Johnson interviews Sam Fleming and Russell Dickerson interviews our cover artist Irek Konior.

Our reprint this month is a doozy: "Nemesis" by the great Laird Barron.
Here's the complete TOC.