The Public Life of Sherlock Holmes: Stanford Does Holmes and More…
The Public Life of Sherlock Holmes: Stanford Does Holmes and More…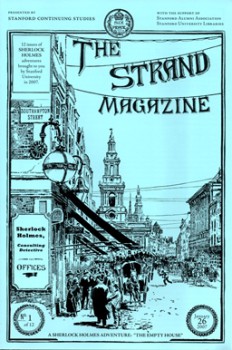 I don't know how many Holmes and Sir Arthur Conan Doyle related books I have on my shelves. But it's certainly several hundred. And I know almost every one of them and where they are. Some days, I like to simply pull various volumes out, look at them a bit and put them back. And once in awhile, I run across something I had forgotten about. Such happened to me as I was trying to decide what to write about this week.
Did you ever hear of the Stanford Victorian Reading Project? This admirable effort, currently on hiatus, released facsimiles of Charles Dickens and Sherlock Holmes stories. Regarding Dickens, they explored Great Expectations, A Tale of Two Cities and Hard Times.
I'm not much of a Dickens reader, so I'm only going to look at the Holmes project here.
You could sign up and they would send you, in the mail, free, an issue with a recreated cover from The Strand Magazine, a very short essay somehow related to Holmes or Doyle, a facsimile of a story with Sidney Paget's illustrations, and annotations, often including a map or other picture. Quite simply, these are neat! Starting in January of 2006, I received (on a weekly basis), "A Scandal in Bohemia," The Speckled Band," The Hound of the Baskervilles in nine installments, and "The Final Problem."
Beginning in January of 2007, the sent out "The Empty House," "Silver Blaze," "The Musgrave Ritual," "The Reigate Squire," "The Greek Interpreter," "Charles Augustus Milverton," "The Abbey Grange," "The Second Stain," "The Bruce-Partington Plans," "The Devil's Foot," "The Dying Detective" and "His Last Bow."
I like reading the stories with the original illustrations, be it Sidney Paget, Frederic Dorr Steele, or a host of others (whom you can read about in this fabulous, FREE essay). The first ten (2006) came on cheap, pulp-like paper, while the next twelve (2007) were on a more standard grade paper. I prefer the latter, as there's no residue left on my fingers.
The annotations don't quite compare to those of William Baring Gould or Leslie Klinger, but they're fun to read. And the inside cover essays cover a variety of topics, such as Doyle's home at Undershaw, William Gillette and Harry Houdini. All in all, these really are nice little items to add to a Sherlockian bookshelf.
All of the entries in both the Holmes and Dickens series' can be downloaded for free, so you can still have copies of them.
Hmm…we are woefully short on this week's column (some would say it's already too long, but I ignore the naysayers). So, here are a couple other items from my collection.
The Return of Sherlock Holmes
I don't collect original editions or rare copies. 99 percent of my library consists of common printings (though I do have some 1903 Emile Gaboriau mysteries). And one pretty old Holmes book. I have a 1905 The Return of Sherlock Holmes by McClure, Phillips & Co. I bought it because it has several plates with illustrations by Charles Raymond Macauley. Originally from Cleveland, Macauley won a Pulitzer Prize for a cartoon he drew about World War I reparations. I'm reasonably certain he drew more illustrations for this book than are included in my edition, but here's one with a William Gillette-looking Holmes, from "The Three Gables."
The Authentic World of Sherlock Holmes by Charles Viney
These days, a Holmes fan can roam the Internet and find no shortage of Victorian Era photos. Including quite a few pictures related to sites contained in stories from the Canon. Viney's book contains several dozen photographs from the Era, with passages from Holmes stories, relating them to the great detective's adventures. This is one of my favorite Sherlockian books for simply browsing. It really puts me in the Holmes atmosphere.
The Lost Adventures of Sherlock Holmes by Ken Greenwald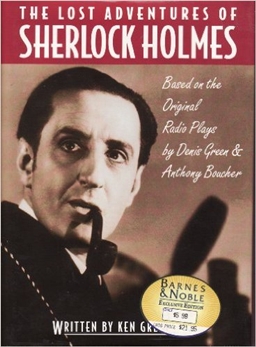 I could write about any of dozens of Holmes pastiches (stories written by authors other than Conan Doyle). Greenwald's stands out because it contains thirteen adaptations of Basil Rathbone/Nigel Bruce radio dramas. Star of fourteen films as the great detective, Rathbone made almost two hundred radio plays with Bruce. Feeling trapped by Holmes (correctly), he quit the role entirely, though Bruce continued on as Watson. Rathbone was the image of Holmes for decades.
First published in 1989, this is a great premise. Frankly, I'm surprised there hasn't been another book or two based on the radio plays. These aren't the best pastiches around, but they are pure nostalgia and should automatically appeal to fans of those old movies and the radio series. When I read this book, I have a sudden craving for Petri Wines (a tip of the deerstalker if you got that one).
The radio plays were co-written by Anthony Boucher, a giant in the mystery and fantasy/science fiction fields in his day. He was a major Pons fan and wrote the introduction to The Reminiscences of Solar Pons. If Boucher had been willing to publish the August Derleth-Mack Reynolds collaborations faster, we probably would have had a few more of them.
I included William Nolan's fine essay on Boucher in an issue of The Solar Pons Gazette (page 14).
I myself enjoy listening to the Rathbone/Bruce radio plays (yes, Bruce's Watson is a doofus, just like on screen). From a story perspective, the quality varies greatly. Some of them simply aren't very good. But most are at least adequate and worth listening to.
A Sherlock Holmes Companion by Peter Haining
Speaking of Basil Rathbone…A few weeks ago, I wrote about Peter Haining's The Final Adventures of Sherlock Holmes. I have also written about an essay included in his The Sherlock Holmes Scrapbook. Another Haining collection that I like is A Sherlock Holmes Companion. This eclectic book has a wide-ranging mix of writings on Holmes. It includes serious Sherlockian fare, such as Ronald Knox's foundational "Studies in the Literature of Sherlock Holmes" and S.C. Roberts' "The Cult of Sherlock Holmes."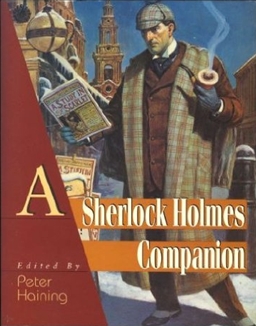 And there's more light-hearted stuff, like President Franklin D. Roosevelt's "Sherlock Holmes was an American!" and the silly "The Adventure of the Two Collaborators" by Peter Pan creator, J.M. Barrie.
I also recently wrote about Edgar Smith's fine essay, "The Implicit Holmes," which was included in Sherlock Holmes by Gas-Lamp. That excellent anthology of writings from the Baker Street Journal also includes "Daydream," an essay written by Rathbone that appeared in Esquire Magazine in 1956. The writer is a Scotland Yard Inspector who runs into an old man while visiting his hometown of Sussex. You can guess who the old man is, though I'm not positive who the writer's father is (I'm guessing Lestrade). It's a nice little bit that is intended to warm our hearts with an elderly Holmes giving us a sense of nostalgia.
Rathbone wrote another essay, 'An Encounter in Central Park" in April of 1954. This was not long after his EXTREMELY short-lived play, Sherlock Holmes, failed. He actually references it. In this piece of pure fluff, Rathbone himself encounters John Watson (not believing he is "the" Doctor Watson, on a park bench. I suppose someone could delve into analyzing Watson's comments if they chose to, but I've never seen the purpose of this one.
But this is book (when Amazon finally puts Barnes and Noble out of business, will we lose low-cost collections like this one?) is definitely worth picking up. It contains several interesting articles, like one from Winifred Paget on her father, Sidney, a couple from John Bennett Shaw and a John Gardner piece related to his excellent pastiche, The Return of Moriarty.
And now that we've pushed our word count up past our usual target of 1,000, we'll wrap things up, though there are a lot of notable books I could discuss. Perhaps another Monday.
---
You can read Bob Byrne's 'The Public Life of Sherlock Holmes' column here at Black Gate every Monday morning.
He founded www.SolarPons.com, the only website dedicated to the 'Sherlock Holmes of Praed Street' and blogs about Holmes and other mystery matters at Almost Holmes.
His "The Adventure of the Parson's Son" is included in the largest collection of new Sherlock Holmes stories ever published.