NK Jemisin Profiled at The Guardian
NK Jemisin Profiled at The Guardian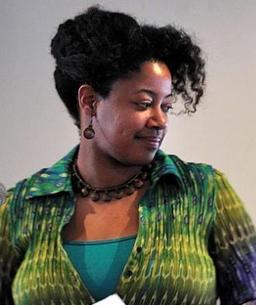 NK Jemisin is one of the finest new writers to arrive on the fantasy scene in the last decade. Her new novel The Fifth Season will be published by Orbit next month, and yesterday the UK newspaper The Guardian posted an intriguing profile and interview with the author, in which she addresses, among other things, the ongoing Sad Puppy debate.
Jemisin is on the phone from her not-very-epic day job as a university administrator in New York. When she gets off the phone, she says, she's going to bike to a coffee shop to write her thousand words for the day, a pace that allows her to finish about a novel a year…

"As a black woman," Jemisin tells me, "I have no particular interest in maintaining the status quo. Why would I? The status quo is harmful, the status quo is significantly racist and sexist and a whole bunch of other things that I think need to change. With epic fantasy there is a tendency for it to be quintessentially conservative, in that its job is to restore what is perceived to be out of whack…"

Earlier this year, a number of writers and sci-fi industry insiders began to organise and protest against the fact that nominees for the Hugo awards have become substantially less white and less male… Jemisin is obviously no fan of the Puppies, but she sees a positive side effect from their crusade. "What I find heartening," she said, "is the sheer amount of laughter the Puppies are engendering as they demand that what they call 'affirmative action' works no longer be considered, but really at the same time, they're putting only their own friends on the ballot. So they're actually asking for their form of affirmative action to replace what they think of as affirmative action. And everyone is realising it. People are looking at these authors [like Vox Day and Puppies leader Brad Torgerson], who they once took seriously, and now just pointing and laughing."
Read the complete article here.