Future Treasures: The Fifth Season, by N.K. Jemisin
Future Treasures: The Fifth Season, by N.K. Jemisin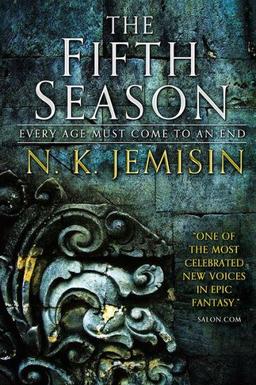 In 2010 I attended a reading at Wiscon, Madison's premiere SF convention. One of the readers was a relative unknown named N.K. Jemisin, whose first novel, The Hundred Thousand Kingdoms, was still five months from release. There were many talented readers in the room, but the moment Jemisin began reading it became apparent that she was something very special. Her voice was sure, her prose sparkled, and the story grabbed your attention instantly. I enjoy a lot of things about this hobby, but there's nothing else quite like stumbling upon a stellar new talent.
If you were one of the early readers of The Hundred Thousand Kingdoms, you probably have an idea how it felt to be sitting in that room in Madison. In the last five years Jemisin has been nominated for the Hugo, Nebula, Tiptree, Crawford, and Gemmell awards — she's no longer a "new" talent, and expectations for her latest book run very high indeed. But if you still enjoy the thrill of the new, you can get in on the ground floor of a brand new fantasy series from N.K. Jemisin when Orbit releases The Fifth Season, the first volume of The Broken Earth, in early August.
This is the Way the World Ends. For the Last Time.

A season of endings has begun.

It starts with the great red rift across the heart of the world's sole continent, spewing ash that blots out the sun.

It starts with death, with a murdered son and a missing daughter.

It starts with betrayal, and long dormant wounds rising up to fester.

This is the Stillness, a land long familiar with catastrophe, where the power of the earth is wielded as a weapon. And where there is no mercy.
The Fifth Season will be published by Orbit on August 4, 2015. It is 512 pages, priced at $15.99 in trade paperback and $9.99 for the digital edition.