Clarkesworld 106 Now on Sale
Clarkesworld 106 Now on Sale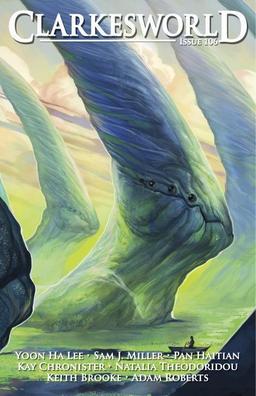 In his editorial this issue, Editor-in-Chief Neil Clarke recalls the birth of the magazine at Readercon:
Our ninth anniversary will occur in October, but the magazine was born at Readercon. At the Friday night Meet the Pros(e) party, Sean Wallace and I got into a long discussion about online magazines spurred on by SciFiction's recent closure. [SciFiction was the Sci Fi channel's online magazine and its demise was a huge blow to the perceived credibility of the medium.] That night, we spent hours trying to figure out why so many online magazines had failed and what it would take to make one succeed. Sleep-deprived and a bit too overconfident, we came up with a business model we thought would work. By the end of the weekend, it was a done deal: I was launching a magazine. Nine years later, that wild little experiment is turning into what I hope will become my career. Not bad for something I stumbled into with no prior experience.
Over the past nine years, Clarkesworld has become one of the most important magazines in the field, a three-time winner of the Hugo Award for Best Semiprozine. In 2013 it received more Hugo nominations for short fiction than all the leading print magazines (Asimov's, Analog, and The Magazine of Fantasy & Science Fiction) combined, and last November the magazine was awarded a World Fantasy Award.
Issue #106 of Clarkesworld has seven stories — five new, and two reprints — from Sam J. Miller, Kay Chronister, Natalia Theodoridou, Pan Haitian, Yoon Ha Lee, Keith Brooke, and Adam Roberts.
Short stories featured this issue are:
"When Your Child Strays From God" by Sam J. Miller
"Further North" by Kay Chronister
"Android Whores Can't Cry" by Natalia Theodoridou
"The Hunger Tower" by Pan Haitian
"Snakes" by Yoon Ha Lee
"The Accord" by Keith Brooke (from The Solaris Book of New Science Fiction, Volume 1, 2006)
"Hair" by Adam Roberts (from When It Changed: Science Into Fiction, 2009.)
Non-fiction includes "Eternal Wanderers Between Fire and Ice" by Tomas Petrasek, "Another Word: An Anxious Introvert's Guide to the Con Experience" by Genevieve Valentine, interviews with Kim Stanley Robinson and Pan Haitian, and three podcasts.
We last covered Clarkesworld with Issue 105.
Clarkesworld is edited by Neil Clarke and Sean Wallace, and published by Wyrm Publishing. The contents are available for free online; individual issues can be purchased for $3.99, and monthly subscriptions are $2.99/month. A 6-month sub is $17.94, and the annual price is $35.88. Learn more and order individual issues at the magazine's website.
This issue's cover, "Megafauna Europa," is by Julie Dillon.
See the complete issue here.
Our late-June Fantasy Magazine Rack is here. See all of our recent fantasy magazine coverage here.