Is That Your Sword, Or Are You Just Happy to See Me?
Is That Your Sword, Or Are You Just Happy to See Me?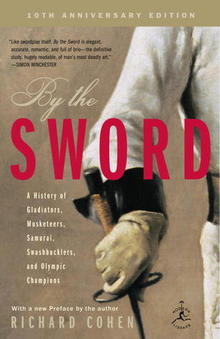 I love sword-fights. By which I mean I love them in movies and on TV. Not so much in books. Mostly in books they take too long, and illustrate more how much research the writer has done and not so much the moving ahead of the story. And that's how swords and sword fighting came to mind when I started thinking about what real life things do and don't happen in fiction, or in movies or TV. If you'd like to see what I've already said about this, look here, and here.
So, in the spirit of what does and doesn't happen in real life vs TV or movies – or even books – just what happens with people's swords when they aren't using them to kill someone? And what about other weapons? As I've suggested before, this type of thing is fairly easily handled in books. More easily than, say, why characters never (ie. hardly ever) go to the bathroom. In books, when they're not using them, characters simply sheath their swords, or hang them from their harnesses, or hang them up by the belt on a hook. Or put them down on a table. As the reader, your eyes are directed elsewhere, and you rarely give it another thought.
Sure, sometimes a writer will have a character clean their sword, or other weapons. But there are reasons for this. One, it gives the characters something to do with their hands while dialogue is taking place. Two, how the cleaning gets done tells the reader something about the character's personality.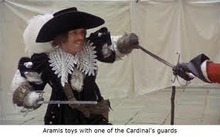 Though it happens for comic effect on film, very rarely in books will characters trip over their own swords. Nor do they trip others – at least not by accident. And that's the point, characters are not clumsy by accident, not with their swords, nor with anything else. (In fact, from the point of view of the author, there are no accidents in fiction. Everything is done on purpose. But I digress.)
In movies or TV, things can get more complicated. It's harder to direct the viewers' eyes away from something that should be right in front of them, all the time. Like a guy's sword.
Period drama, and fantasy of the sword-and-sorcery variety, handle this by making the swords part of the costume, as indeed they were in the days when gentlemen always wore them. In that sense, swords can be fashion statements. Even the word "rapier" as Richard Cohen tells us in his marvelous book By the Sword, comes from the Spanish phrase "espada ropera" or "dress sword." And talking of tripping over your own sword, Cohen tells us that when fashionably long rapiers began to cause too many accidents, Elizabeth I passed a proclamation limiting their length.
In any case, people have been "wearing" swords for centuries, and, from our point of view more significant, they've been "wearing" them on stage pretty much as long. So actors, whether of the stage or screen variety, have a long history of learning how to move with a sword.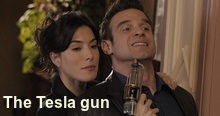 Should be easier with guns, right? Well, sure. Maybe they haven't the history of swords, but they're smaller, for one thing. In detective novels, characters like Robert Parker's Spenser, or Robert Crais' Elvis Cole, simply tell you what type of holster they're using, and what jacket they're wearing to cover their gun. In westerns – or Firefly – characters wear their guns openly in holsters.
But it's not always that easy.
A friend of ours was one of the art directors for the TV series Warehouse 13. He was specifically responsible for the design of two items, a communication device called a Farnsworth, and an energy gun called a Tesla. "Make them look cool," was what he was told, and make them look cool is what he did. Unfortunately it proved to be impossible to make a gun look cool and fit into anyone's costume pockets at the same time. What did they do? When they need their Teslas, the actors simply reach "behind" them, and come out with the gun. I never noticed it, and I don't think I would even have thought about it, if my friend hadn't pointed it out.
Come to think of it, I have a scene early in The Sleeping God, when my mercenary characters, Dhulyn and Parno, have to disarm themselves. They play it for dramatic effect, and take about a page and half to do it. No one has ever asked me where all those weapons could have been hidden. So you see how easy this can be in the reality of a novel. You've experienced how it works in film reality. Do you think it could happen in real reality?

---
Violette Malan is the author of the Dhulyn and Parno series of sword and sorcery adventures (now available in omnibus editions), as well as the Mirror Lands series of primary world fantasies. As VM Escalada, she is writing the upcoming Halls of Law series. Visit her website: www.violettemalan.com.