New Treasures: The String Diaries by Stephen Lloyd Jones
New Treasures: The String Diaries by Stephen Lloyd Jones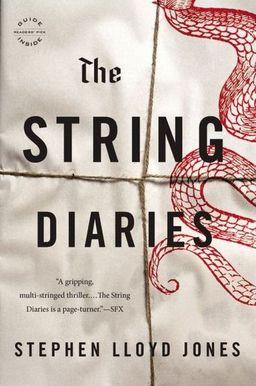 True, I'm a little late to the party with The String Diaries. It was originally published in hardcover last July, and came out in trade paperback in January. But I just stumbled on a copy last week, and it seems too promising not to share with you. The New York Daily News called Stephen Lloyd Jones's debut horror novel "terrifying, and deliciously so… A sophisticated horror story that induces elemental terror," and from what I've read so far, that seems accurate.
A family is hunted by a centuries-old monster: a man with a relentless obsession who can take on any identity.

The String Diaries opens with Hannah frantically driving through the night — her daughter asleep in the back, her husband bleeding out in the seat beside her. In the trunk of the car rests a cache of diaries dating back 200 years, tied and retied with strings through generations. The diaries carry the rules for survival that have been handed down from mother to daughter since the 19th century. But how can Hannah escape an enemy with the ability to look and sound like the people she loves?

Stephen Lloyd Jones's debut novel is a sweeping thriller that extends from the present day, to Oxford in the 1970s, to Hungary at the turn of the 19th century, all tracing back to a man from an ancient royal family with a consuming passion — a boy who can change his shape, insert himself into the intimate lives of his victims, and destroy them.

If Hannah fails to end the chase now, her daughter is next in line. Only Hannah can decide how much she is willing to sacrifice to finally put a centuries-old curse to rest.
The trade paperback edition includes an 11-page preview of the sequel, Written in the Blood, released in hardcover in May. I'm not familiar with Mulholland Books, but I certainly should be — I notice they also publish Joe R. Lansdale, Dan Simmons, Lauren Beukes, and many others. The String Diaries was published by Mulholland Books on January 6, 2015. It is 420 pages, priced at $16 in trade paperback, and $9.99 for the digital version. The cover design is by Keith Hayes.