New Treasures: Master of Plagues by E.L. Tettensor
New Treasures: Master of Plagues by E.L. Tettensor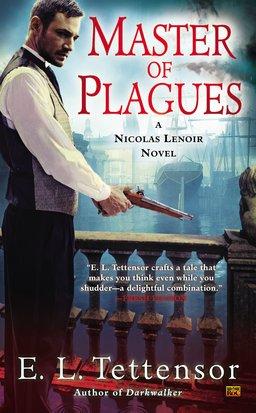 About a year ago I reported on the first novel in a promising new series: Darkwalker by E.L. Tettensor. Now the second novel featuring Police Inspector Nicolas Lenoi has arrived, Master of Plagues, and it looks as intriguing.
The Nicolas Lenoi novels are set in Kennian, part of the backwater Five Villages, which seems a lot like 19th-century England if you squint. Lenoir is tasked with investigating dark mysteries in a place where folks scoff at the supernatural. These books look like a fine mix of fantasy and mystery in a fog-shrouded Victorian(ish) landscape, with plenty of original touches to keep things interesting.
Unraveling a deadly mystery takes time — and his is running out…

Having barely escaped the clutches of the Darkwalker, Inspector Nicolas Lenoir throws himself into his work with a determination he hasn't known in years. But his legendary skills are about to be put to the test. A horrific disease is ravaging the city — and all signs point to it having been deliberately unleashed.

With a mass murderer on the loose, a rising body count, and every hound in the city on quarantine duty, the streets of Kennian are descending into mayhem, while Lenoir and his partner, Sergeant Bran Kody, are running out of time to catch a killer and find a cure.

Only one ray of hope exists: the nomadic Adali, famed for their arcane healing skills, claim to have a cure. But dark magic comes at a price, one even the dying may be unwilling to pay. All that's left to Lenoir is a desperate gamble. And when the ashes settle, the city of Kennian will be changed forever…
E.L. Tettensor also writes under the name Erin Lindsey. We recently covered her fantasy novel The Bloodbound. Master of Plagues was published on February 3, 2015 by Roc. It is 368 pages, priced at $7.99 in paperback and $6.99 for the digital edition.