March/April Magazine of Fantasy & Science Fiction now on Sale
March/April Magazine of Fantasy & Science Fiction now on Sale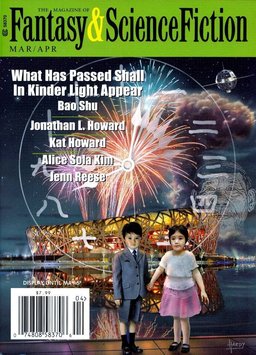 Gordon van Gelder, who has been editing The Magazine of Fantasy & Science Fiction since June 1997 when he took over from Kristine Kathryn Rusch, steps down this issue. As we announced in January, he is being replaced by C.C. Finlay, author of  "The Nursemaid's Suitor" in Black Gate 8. In his Publisher's Note this issue, Gordon had this to say:
AFTER eighteen years of reading submissions, my eyes need a break. I've hired C. C. Finlay as the new editor of F&SF, effective with this issue.

When I first started editing the magazine back in 1997, I likened the role of editor to that of managing a baseball team. That analogy still works well for me. I think I've had a lot of good seasons, but now it's time to move to the back office and let someone else kick dirt on the umpire when he gets a call wrong.

You got a good sample of our new editor's skills in our July/August issue last year, and you can see more of his taste in action in this issue. I think you'll like what you see.

I'll take this moment to thank all you readers and artists who have put your trust in me. I've done my best to bring you the best magazine I can, and I'll continue to do so as publisher. To that end, I'm very happy to have Charlie replacing me.
Mr. Finlay begins his first issue as regular editor with a diverse range of fiction — including two Black Gate regulars, Jonathan L. Howard (author of the Kyth the Taker stories, "The Shuttered Temple" and "The Beautiful Corridor"), and Brian Dolton ("What Chains Bind Us"), both of whom I'm very pleased to see in F&SF. There's also fiction from Bao Shu, Alice Sola Kim, Paul M. Berger, Jay O'Connell, Kat Howard, and many others.
Here's the complete Table of Contents.
NOVELLAS
"What Has Passed Shall In Kinder Light Appear" – Bao Shu
NOVELETS
"A Residence for Friendless Ladies" – Alice Sola Kim
"The Mantis Tattoo" – Paul M. Berger
SHORT STORIES
"Things Worth Knowing" – Jay O'Connell
"La Héron" – Charlotte Ashley
"This Is the Way the Universe Ends: with a Bang" – Brian Dolton
"Last Transaction" – Nik Constantine
"Little Girls in Bone Museums" – Sadie Bruce
"A Small Diversion On the Road to Hell" – Jonathan L. Howard
"How to Masquerade as a Human Before the Invasion" – Jenn Reese
"A User's Guide to Increments of Time" – Kat Howard
"Bilingual" – Henry Lien
Departments this issue include book reviews by Charles de Lint and Michelle West, film reviews from Kathi Maio, cartoons by Bill Long and Mark Heath, a Curiosities entry by Paul Di Filippo, and an editorial by Finlay, in which he looks back at the very first issue of F&SF, cover-dated Fall 1949. The cover is by David A. Hardy, illustrating "What Has Passed Shall In Kinder Light Appear."
The Magazine of Fantasy and Science Fiction is published by Gordon van Gelder. The cover price is $7.99 for a thick 258 pages. Check out the complete TOC and additional free content at the F&SF website.
We last covered F&SF here with the January/February 2015 issue.