Vintage Treasures: The Year's Best Fantasy, First Annual Collection, edited by Ellen Datlow and Terri Windling
Vintage Treasures: The Year's Best Fantasy, First Annual Collection, edited by Ellen Datlow and Terri Windling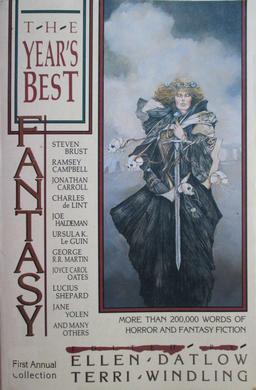 Some 27 years ago, the first volume of Ellen Datlow and Terri Windling's long-running Year's Best Fantasy series appeared.
Created in conscious imitation of Gardner Dozois's even longer-running Year's Best Science Fiction (also published by St. Martin's), Datlow and Windling's Year's Best Fantasy became the most prestigious and long-lived fantasy annual the genre has yet seen. Renamed The Year's Best Fantasy and Horror beginning with the third book in 1990, it lasted an impressive 21 years, publishing its final volume in 2009.
The series accumulated numerous accolades and award nominations over the decades, and became the acknowledged yearbook for the field. Just as Dozois did with his sprawling summations, Datlow and Windling summarized the year's news, events, and gossip in lengthy and highly readable intros. If you were a new writer, publication, or small press, it was a major career milestone just to be name-checked.
I remember how excited I was to finally get my hands on a copy in the fall of 1988. I took it to the common room of my graduate dorm in Urbana, Illinois, and curled up in a comfy chair, where I read for hours while the first winter snow accumulated outside. I read this first volume cover to cover, in the process getting introduced to dozens of writers like Delia Sherman, Michael McDowell, David J. Schow, Susan Palwick, and many others. The book was the equivalent of a graduate course in modern fantasy.
In fact, there was just one problem. I didn't like most of the stories.
There were exceptions, of course. I was thrilled to find a prose story by the brilliant comic writer Alan Moore, author of Watchmen and V for Vendetta. There was a twisted and very original piece of Lovecraftian horror by George R.R. Martin called "The Pear-Shaped Man" and Michael Shea contributed a disturbing horror tale titled "Fat Face."
But overall, the stories weren't for me. I can vividly remember several other excellent anthologies I read the same year, but when I picked up my copy of The Year's Best Fantasy, First Annual Collection today and looked over the table of contents, I found that almost none of the contents had stuck in my memory.
When I closed the book 27 years ago, I came to the conclusion that Datlow and Windling had assembled a very talented group of writers, but that we clearly had very different tastes. I was looking for tales of adventure fantasy and sword & sorcery, writers telling stories of desperate events in fantastic lands, and I knew those stories were out there. But the editors had something very different in mind — the fiction they had selected was, by and large, quieter, more contemporary, more concerned with character studies and small events. Stories I could certainly appreciate individually — but in aggregate, they made a very different anthology than what I had been hoping for.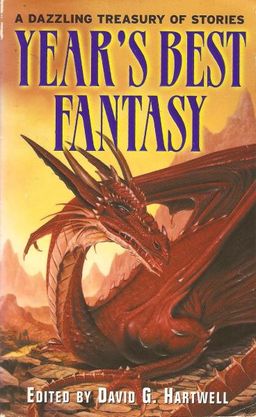 The fact that I had starkly different taste than two popular editors was a useful thing to learn. In fact, it directly impacted my decision, a decade later, to launch Black Gate magazine. The nagging suspicion I felt when I put the book down grew into conviction over the years… there was a significant lack of real adventure fantasy in the short fiction market, and I decided to do something about it. The response from readers in the first few years was overwhelmingly positive, and I sometimes wonder if Black Gate would have sprouted in the year 2000, if that seed hadn't first been planted in 1988.
Not too surprisingly, not a lot of fiction from Black Gate got selected for Datlow and Windling's Year's Best Fantasy over the years. I was grateful to see that stories from our first few issues — including "Stitchery" by Devon Monk (BG2), and Richard Parks's novelette "Golden Bell, Seven, and the Marquis of Zeng," from our very first issue — were reprinted in several other volumes, including David Hartwell's prestigious Year's Best Fantasy. But we never cracked Datlow and Windling, and that was okay.
In fact, I was never really sure if they even knew we existed. While I stopped reading the Datlow/Windling Year's Best Fantasy after that first volume, I did read their invaluable 90-page industry summations every year — we may have had different tastes, but that didn't lessen my respect for their knowledge and insight into the field. Once I started Black Gate, I hoped that we'd at least be mentioned. I studiously mailed off copies of every issue to the address they gave, and diligently followed up with the editors or their assistants to make sure they'd been received. Alas, it was not to be. I checked the summary every year the print version of Black Gate was published, and it seemed to me we were just as studiously ignored. I can't recall ever being mentioned.
Datlow and Windling accomplished a great deal in the years they published their huge volumes, reprinting some terrific stories and showcasing hundreds of excellent authors. But I can't help feeling that they never really connected with an audience the way they could have. Sales were an issue, and after a few years there were signs of trouble. Windling eventually departed in 2003, replaced by Kelly Link and Gavin Grant. The series endured for another five volumes, before coming to an end with volume 21 in 2008.
To some extent, I think it suffered from a declining interest in short fiction, and the collapse of magazine sales in general. Black Gate was certainly a victim of the same thing, especially after about 2008. But I do believe that those of us who edited and published fantasy for the last ten years bear some responsibility for that decline. We didn't bring people back to the field the way we should have. We didn't reach a new generation of readers, and send them scurrying to the magazine rack to read the latest adventures of their favorite heroes the way I think we could have.
Well, there's plenty of blame to go around. Datlow and Windling did more to support and nurture fantasy short fiction than almost anyone else in the last 25 years. Perhaps I didn't find their taste in alignment with mine, but that's hardly a crime. If I have a serious criticism to level their way, it's that they could have done more to attract a new generation of fantasy fans — and especially young readers — by being more inclusive of the kind of fiction that audience craves. But they did a lot of other things right, so in the end, I can overlook that one.
The Year's Best Fantasy, First Annual Collection, was published in 1988 by St. Martin's Press. It is 492 pages, priced at $12.95. The cover is by Thomas Canty.