Goth Chick News: From Comics to Film, Bad Kids Go (Back) To Hell
Goth Chick News: From Comics to Film, Bad Kids Go (Back) To Hell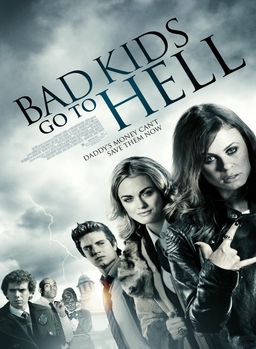 Back in 2010 at the Chicago Comic Con, we had a chance meeting with the creators of what was then a new comic series entitled Bad Kids Go to Hell. This was mainly due to their booth being manned by several young ladies in skimpy Catholic school uniforms, which Black Gate photographer Chris Z seemed to find immensely camera-worthy.
However, after speaking with creators Matthew Spradlin and Barry (Bazz) Wernick, who came up with this idea during the 2007 Hollywood writer's strike, I had to admit they were onto something. Four years on, I was clearly not the only one who thought the Bad Kids Go To Hell graphic novel was disturbing and hysterical in equal measure.
What was created during the pair's relentless promotional tour of comic-fan conventions and in-store signings during the next year, was nothing short of a juggernaut cult following. The touring allowed Spradlin and Wernick to improve their pitch and ultimately gave them their shot at turning the comic into a movie.
Which is precisely what they did in 2012.
Bad Kids had always been compared to a horror version of The Breakfast Club, so it did nothing to hurt the work's forward momentum when Judd Nelson signed on to play a headmaster. "Sort of an ironic twist of fate," Wernick said in a D Magazine 2012 interview. "The bad kid from the detention in The Breakfast Club is now the headmaster of all these bad kids."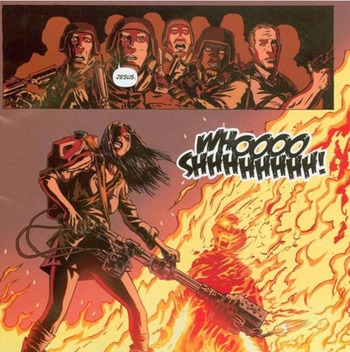 Ben Browder, known for television shows such as Farscape and Stargate SG-1, also joined the cast as Max the janitor, adding even more geek cred.
Fans then flooded the You Cast the Movie section of the BKGTH website and many of their suggestions fleshed out the remaining cast members.
Bad Kids Go To Hell the movie was released to the indy film circuit in December, 2012 and from the posts to various review sites, it's clear the fans of the graphic novel embraced the film version with an equal zeal. I spent part of my Christmas day catching it on Amazon Instant Video, and it truly was a ton of fun with good acting, high production values, and wickedly satirical dialog.
Spradlin and Wernick did well… actually very well.
Flash forward to December, 2014 when I was just pleased to pieces to hear from Matthew Spradlin about the sequel comic Bad Kids Go 2 Hell, along with an upcoming theatrical movie release – proving definitively that the path to Hollywood can indeed cut through the comic and indy film scenes.
A highly successful Kickstarter campaign allowed the gents to hit the streets with thousands of copies of the new graphic novel.
It's four years later, and a new group of students has been placed in Saturday detention at good ol' Crestview Academy. After one of the kids locks away the teacher assigned to watch them, the five of them very quickly find their ranks dwindling as each meets with a gruesome "accident." They may not be stuck in the library, but with a new threat revealing itself, is there enough time and resources for at least one of them to make it out alive?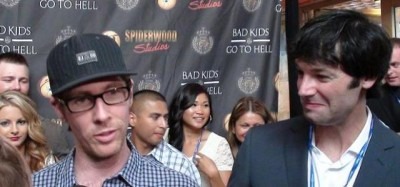 So it was Christmas all over again when on December 26th the FedEx man delivered my very own copy of Bad Kids Go 2 Hell (and signed too – I love these guys).
The graphics created by Martin Griffiths and Alex Williams are fantastic and are exactly the style which made me fall in love with comics to begin with – think old school color and layout with a decidedly "adult" twist.
The story is fun, sardonic and action-packed, though I would have expected nothing less. And with a main character named Siouxsie who drives a red motorcycle and knows how to wield an axe, how could I not spend the afternoon devouring every page?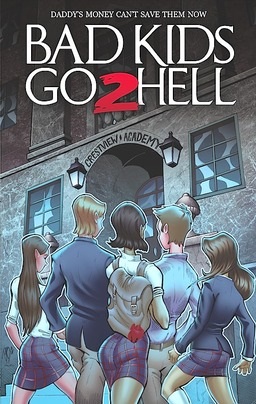 While remaining faithful to the graphic novel sequel, Spradlin also let me know that the film version adds a few mysterious and comedic characters, as well as new twists and turns that will keep even us fans of the comic on the edge of our seats.
Spradlin and Wernick have also taken the film talent up a notch. Ben Browder will not only reprise his role as Max the janitor, but will also direct the sequel. In front of the camera, the Bad Kids Go 2 Hell cast includes Sean Astin, Ali Astin (his daughter), Gina Gershon, Sammy Hanratty, and television comedy favorites such as Sufe Bradshaw and Drake Bell.
I'm told the movie has completed the first cut and is on track for theatrical release in the first quarter of 2015. You can keep up with all the latest at the BKGTH Facebook page and in the meantime, go get your hands on a copy of the graphic novel and spend a little quality time with the senior class of Crestview Academy.
So in conclusion, as we here at Goth Chick News have always known; good kids go to heaven, but bad kids go everywhere else…
Have you seen the BKGTH film or followed the genius that is Matthew Spradlin and Barry Wernick?  Post a comment or drop a line to sue@blackgate.com.