Vintage Treasures: The House in the High Wood by Jeffrey E. Barlough
Vintage Treasures: The House in the High Wood by Jeffrey E. Barlough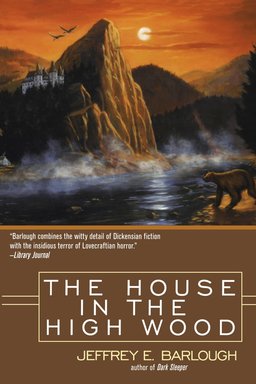 Jeffrey E. Barlough's first three Western Lights novels were published in trade paperback by Ace over a decade ago, beginning with Dark Sleeper (2000), and followed by The House in the High Wood (2001) and Strange Cargo (2004). All three are highly prized today. Barlough began to publish them though his own Gresham & Doyle press beginning with the fourth volume, Bertram of Butter Cross (2007). I recently acquired the second book. Back when I was running SF Site, I recruited the author Victoria Strauss to write for us; here's what she said about it the year it was published:
Framed in good Gothic style by ante and post scriptums in which a nameless narrator encounters the teller of the main tale (a somber, haunted Oliver Langley, 11 years later), The House in the High Wood is a homage to such classics of the Gothic genre as The Monk and Woman in White, replete with mystery, madness, illegitimacy, ghostly visitations, ancient ruins, brooding forests, sinister dwellings, and supernatural terror. Like the first in the series, Dark Sleeper, it's a neo-Victorian pastiche, with an agreeably verbose 19th-century prose style and a large cast of eccentric characters. But where the previous book was as much digression as story, devoting entire chapters to character study and whole pages to the description of the contents of a single room, this novel is much more a straight-ahead narrative of suspense, proceeding grippingly from plot turn to plot turn, with moments that are genuinely bone-chilling.
The Western Lights novels have steadily been gathering acclaim (and readers) over the last few years. Jackson Kuhl reviewed the fifth volume Anchorwick for us in 2011, calling it "A Victorian Dying Earth —- gothic and claustrophobic yet confronted by its inhabitants with upper lips held stiff… It's P.G. Wodehouse with woolly mammoths." More recently, we covered What I Found at Hoole (2012) and the eighth volume, The Cobbler of Ridingham. We published an interview with him in 2013.
The House in the High Wood was published by Ace Books on August 1, 2001. It is 336 pages, originally priced at $14.95. The digital version is $17.99. The cover art is by Aleta Jenks.