New Treasures: Jeffrey E. Barlough's What I Found at Hoole
New Treasures: Jeffrey E. Barlough's What I Found at Hoole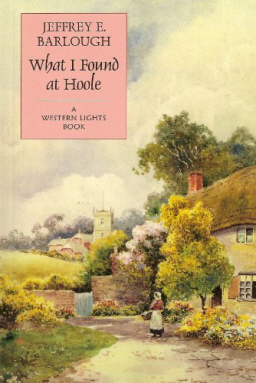 Jeffrey E. Barlough's Western Lights series may be the best fantasy books you don't know about.
I didn't know about them either, until Jackson Kuhl's review of Strange Cargo in Black Gate 8. Jackson has called Barlough "a wonderful yet unappreciated fantasist… a talent I invite everyone to sample." In his review of Anchorwick, the fifth novel in the series, he summarized the intriguing setting this way:
In a world where the Ice Age never ended, a cataclysm has reduced humanity to a slip of English civilization along North America's western coastline. It's neither steampunk nor weird western; the technology is early 19th century. It's kinda-sorta gaslamp fantasy, except there doesn't seem to be any natural gas. Barlough's creation is best described as a Victorian Dying Earth — gothic and claustrophobic yet confronted by its inhabitants with upper lips held stiff. As the books are fantasy mysteries, the less said about their plots, the better… mastodons and mylodons mixed with ghosts and gorgons? Yes, please.
Now the seventh novel in the series, What I Found at Hoole, has arrived in a handsome trade paperback from Gresham & Doyle. It picks up at the end of the second volume, The House in the High Wood, which was a nominee for the 2002 Locus Award for Best Fantasy Novel.
Mr. Ingram Somervell has been called to the remote village of Hoole, in the uplands of Ayleshire, to inspect some property bequeathed to him by an uncle he had never met. Almost at once he finds himself plunged into mysteries that confound him. Why had Clement's Mill, a dilapidated old mill that did no milling, been left to him… Why had his uncle ordered the old chapel on the fellside and its coffin-crypt sealed after the arrival of Miss Petra, his ward and heir? What was the ghostly yellow light that had been seen on Cowdrie Beacon? And what to make of the frightful dreams hinting at some unimaginable catastrophe plaguing young Somervell since he came into Ayleshire?
These novels, with their oddly pastoral cover art — the cover to this one, F.H.Tynsdale's A Country Cottage and Church, is from the 19th Century — are an entertaining mix of genres, blending fantasy, gothic mystery, and even a dash of period comedy straight out of P.G. Wodehouse. Don't miss them.
What I Found at Hoole was published by Gresham & Doyle on November 1st. It is 259 pages and priced at $14.95 in trade paperback. There is no digital edition.