Vintage Treasures: Al Williamson Adventures
Vintage Treasures: Al Williamson Adventures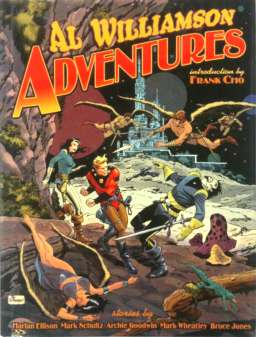 Al Williamson is one of my all-time favorite comic artists. His meticulously-detailed alien landscapes, boundless imagination and kinetic style combined to make him the perfect artist for SF adventure comics.
He started working for E.C. Comics in 1952, illustrating stories by Harlan Ellison, Ray Bradbury, and others, in titles including Valor, Weird Science, Weird Fantasy, and Incredible Science Fiction. I remember him chiefly for his later work, especially his famed Star Wars comic adaptations, and his 80's art in Alien Worlds and Marvel's Epic Illustrated. He passed away in 2010 (see the BG obit here).
Fortunately, you don't have to hunt through expensive old comics to see his very best work. Over the years, a number of excellent retrospectives have appeared, including The Art of Al Williamson (1983), Al Williamson: Hidden Lands (2004), The Al Williamson Reader (2008), Al Williamson's Flash Gordon (2009), and Al Williamson Archives (2010). One of my favorites is Al Williamson Adventures, a beautifully-produced collection of seven stories spanning his entire career, written by some of the best writers in the business:
"Along the Scenic Route" — Harlan Ellison
"Cliff Hanger" — Bruce Jones
"Relic" — Archie Goodwin
"The Few and the Far" — Bruce Jones
"One Last Job" — Mark Schultz
"Out of Phase" — Archie Goodwin
"Tracker" — Mark Wheatley
Al Williamson Adventures was published by Insight Studios Group in September, 2003. It is 96 pages in oversize hardcover, with an 8-page color section.