Vintage Treasures: Strange Cargo by Jeffrey E. Barlough
Vintage Treasures: Strange Cargo by Jeffrey E. Barlough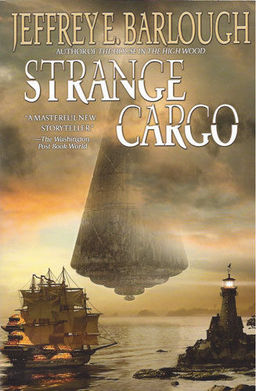 I didn't know quite what to make of Strange Cargo when I received a review copy over a decade ago. The cover grabbed my attention immediately, as did the synopsis, but I didn't immediately realize it was part of Jeffrey E. Barlough's ongoing Western Lights series, set in a world where the Ice Age never ended and only a narrow sliver of civilization survives along the Pacific American coastline.
The vast majority of review copies I received a decade ago are already long forgotten. But Barlough's fame has steadily grown as Western Lights, a delightful series in which Victorian society exists alongside saber-toothed cats and woolly mammoths, continues to attract new readers. Strange Cargo was the third volume, following Dark Sleeper and The House in the High Wood; the most recent are What I Found at Hoole and The Cobbler of Ridingham.
Something wicked this way comes…

Nantle is the destination for the wealthy Cargo family. A mysterious heir has been named in their grandfather's will — and they have traveled a long way by sea to find him.

Mr. Tim Christmas journeys as part of his apprenticeship, seeking the mechanism behind a strange set of seemingly magical stones. On her twenty-first birthday, Miss Wastefield is given an odd gift, which she keeps locked up in a giant chest at all times — a keeping place from which she receives dire threats. In Nantle, she hopes to find the one man who can rid her of this evil.

It is in this old cathedral city that their paths will converge. And where they will find themselves at the mercy of a mighty and vengeful power.
Strange Cargo was published by Ace Books on August 3, 2004. It is 481 pages, priced at $14.95 in trade paperback. It has never been reprinted and it currently out of print; there is no digital edition. The cover is by Gregory Bridges.