Last Chance to Win a Copy of Mark Rigney's Check-Out Time
Last Chance to Win a Copy of Mark Rigney's Check-Out Time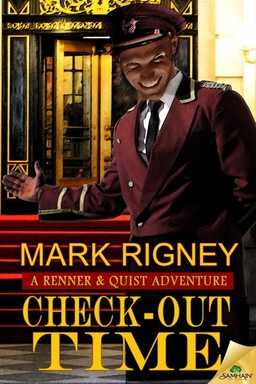 Last week, I told you that you had a chance to win a copy of Mark Rigney's brand new Renner and Quist novel Check-Out Time, on sale next week from Samhain Publishing .
How do you win? Just send an e-mail to john@blackgate.com with the subject "Check-Out Time." That's it. That's all that stands between you and a copy of one of the best horror novels of the year. Two winners will be drawn at random from all qualifying entries and we'll announce the winners here on the Black Gate blog. What could possibly be easier? But time is running out — the contest closes October 1st.
Mark Rigney's Tales of Gemen, which Tangent called "Reminiscent of the old sword & sorcery classics," have dominated our Fiction charts since we published them in 2012. His thrillers starring occult investigators Reverend Renner and Dale Quist began with The Skates and "Sleeping Bear," and anticipation has been building for their first novel-length adventure. Here's the book description.
All things must pass — or so we're told. When Reverend Renner responds to an invitation sent from a long-demolished hotel filled with ghsots of guests from times past, he soon discovers that checking out will be a lot harder than checking in. His sometime friend and investigative partner, Dale Quist, heads to the rescue, but it will take more than brawn and benedictions to put this particular hotel out of business.

All things must pass, indeed –– but that doesn't mean they have to go quietly.
No purchase necessary. Must be 12 or older. Decisions of the judges (capricious as they may be) are final. Not valid where prohibited by law. Eat your vegetables. Check-Out Time will be published by Samhain Publishing on October 7, 2014. It is 250 pages, priced at $15 in trade paperback and $5.50 for the digital edition. Be sure to read Mark's article on the series, The Adventure Continues: the Return of Renner and Quist, published right here in February.