Take Advantage of a 40% Off Sale at Haffner Press
Take Advantage of a 40% Off Sale at Haffner Press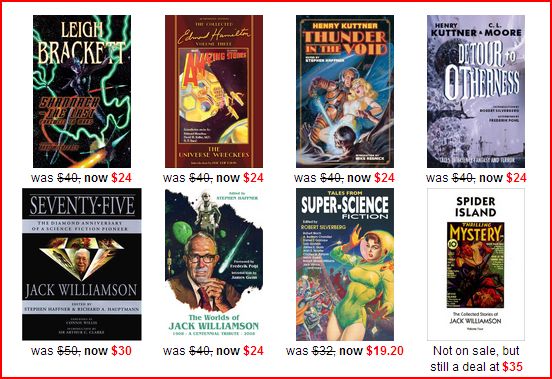 Haffner Press, as we've mentioned once or twice before, produces top-notch archival press hardcovers collecting hard-to-find work by some of the most acclaimed writers in the genre, including Jack Williamson, Edmond Hamilton, Henry Kuttner, C.L. Moore, Leigh Brackett, and many more. On Sunday, Stephen Haffner, Grand Poopah at Haffner Press, announced a sale on several of his most popular titles.
This is an unusual occurrence. In fact, in all the years I've been collecting Haffner Press books, I've never seen them conduct a sale. If you're interested in adding a few Haffner volumes to your collection, now is definitely the time! The books on sale — including Tales From Super-Science Fiction, edited by Robert Silverberg, Leigh Brackett's Shannach – The Last: Farewell to Mars, Henry Kuttner's Thunder in the Void, the massive Detour to Otherness, and the four others shown above — are all 40% off.
To get the discount, you must order at least four books. But hurry — the sale runs only three days and expires on August 6th. Get complete details at the Haffner Press website.