New Treasures: Shanghai Sparrow by Gaie Sebold
New Treasures: Shanghai Sparrow by Gaie Sebold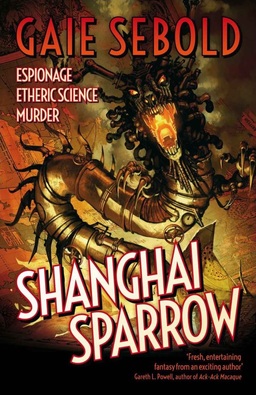 Guess what I found at Barnes & Noble this Sunday? Guess guess guess. You're right! Gaie Sebold's latest novel, Shanghai Sparrow, a Far Eastern steampunk tale of Espionage, Etheric Science, and Murder, according to the cover blurb. Man, you're a good guesser.
Gaie's been on a tear recently. If you remember your Black Gate history, we published her funny and suspenseful contemporary fantasy "A Touch of Crystal" (co-written with Martin Owton), way back in BG 9, and reported on her first novel Babylon Steel (described in the press as "Sword & Sorcery for the girl who wants to be Conan") here. Babylon Steel received two Gemmell Award nominations, and the sequel Dangerous Gifts appeared early last year. For her third novel, Gaie turns to the Far East and introduces us to a heroine she describes as "Someone who learned to lie, cheat, and steal in order to survive; and ended up rather good at it." Here's the back cover blurb.
Eveline Duchen is a thief and con-artist, surviving day by day on the streets of London, where the glittering spires of progress rise on the straining backs of the poor and disenfranchised. Where the Folk, the otherworldly children of fairy tales and legends, have all but withdrawn from the smoke of the furnaces and the clamour of iron.

Caught in an act of deception by the implacable Mr Holmforth, Evvie is offered a stark choice: transportation to the colonies, or an education – and utter commitment to Her Majesty's Service – at Miss Cairngrim's harsh school for female spies.

But on the decadent streets of Shanghai, where the corruption of the Empire is laid bare, Holmforth is about to make a devil's bargain, and Eveline's choices could change the future of two worlds…
Read Gaie's article on Creating Shanghai Sparrow over at the Fantasy Fiction blog and try an excerpt from the novel here (note: excerpt is a PDF download).
Shanghai Sparrow was published by Solaris Books on April 29, 2014. It is 384 pages, priced at $7.99 in paperback and $6.99 for the digital edition.