Future Treasures: The Godless by Ben Peek
Future Treasures: The Godless by Ben Peek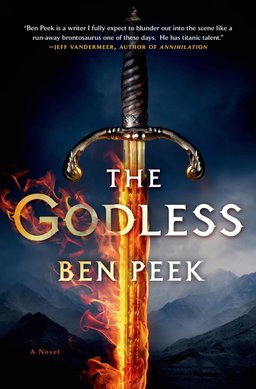 I've been covering a lot of new and upcoming anthologies recently — from John Joseph Adams's Dead Man's Hand to Jonathan Strahan's Best Science Fiction and Fantasy of the Year Volume 8 and George R.R. Martin & Gardner Dozois's massive Rogues. Nothing wrong with that. But every once in a while, I like to settle down with something a little more weighty. Not just a quick read, but a genuine fat fantasy with an epic scope, huge cast of characters, and intriguing premise. Ben Peek's The Godless, the first installment of a new series, weighs in at 562 pages and looks like it will fit the bill nicely.
The Gods are dying. Fifteen thousand years after the end of their war, their bodies can still be found across the world. They kneel in forests, lie beneath mountains, and rest at the bottom of the world's ocean. For thousands of years, men and women have awoken with strange powers that are derived from their bodies. The city Mireea is built against a huge stone wall that stretches across a vast mountain range, following the massive fallen body of the god, Ger.

Ayae, a young cartographer's apprentice, is attacked and discovers she cannot be harmed by fire. Her new power makes her a target for an army that is marching on Mireea. With the help of Zaifyr, a strange man adorned with charms, she is taught the awful history of 'cursed' men and women, coming to grips with her new powers and the enemies they make. Meanwhile, the saboteur Bueralan infiltrates the army that is approaching her home to learn its terrible secret. Split between the three points of view, the narrative of Godless reaches its conclusion during an epic siege, where Ayae, Zaifyr and Bueralan are forced not just into conflict with those invading, but with those inside the city who wish to do them harm.
The Godless will be published on August 19 by Thomas Dunne Books. It is 562 pages, priced at $25.99 in hardcover and $12.99 for the digital edition.