New Treasures: Adventure Tales #7
New Treasures: Adventure Tales #7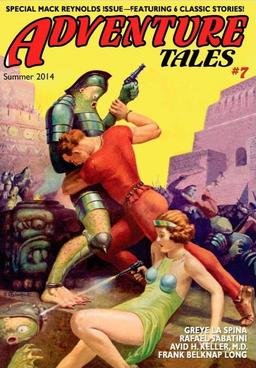 Hurrah! Hurrah! The latest issue of Adventure Tales has arrived! And a spectacular issue it is.
It starts with the cover, a reprint of my all-time favorite Planet Stories cover. I've always wanted to know who painted it — and I still don't know, as the cover artist remains uncredited. (Maybe nobody knows? Sadly, that's entirely possible.)
It's been a long, long time since we've seen an issue of Adventure Tales, Wildside Press's flagship magazine of pulp reprints. And speaking as a magazine publisher who thought he was doing well putting out one issue a year, that means something. Here's an explanatory snippet from John Betancourt's (anonymous) editorial:
We are, as usual, managing to keep to our "irregular" schedule with an issue that's "only" 4 years in following the last one. Hopefully that won't happen again. (Blame the economy… we've had to focus on things that actually make money, rather than the publisher's time-consuming pulp-magazine hobby!)
I'm hugely appreciative of Wildside's tireless efforts to keep countless genre authors — many of whom have no other outlet — constantly in print. But having said that. I still vote for more issues of Adventure Tales. Let's hear it for time-consuming pulp-magazine hobbies! They make the world go round.
Lots of good stuff in this issue. For one thing, Betancourt and team have acquired the literary estate of Mack Reynolds, a prolific SF writer of the 50s and 60s who's been unfairly neglected since his death in 1983, and they're wasting no time mining it for great adventure stories. Here's Betancourt again:
Wildside Press recently purchased the literary estate of Mack Reynolds, one of the top science fiction writers of the 1960s and 1970s, and we have been going through his early pulp stories (and finding some great reads!) — so we are making him the Featured Author in this issue, with no less than 2 essays and 6 of his early stories… plus a bibliography of all his novels.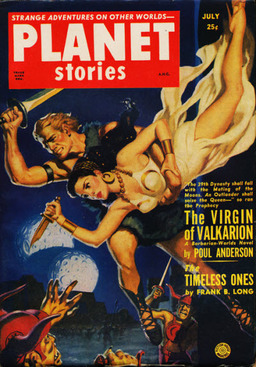 That impressive bibliography takes a page and a half of small print, and doesn't include the 189 short stories Reynolds published between 1950 and 1986 (98 in the decade between 1950 and 1960 alone, in places like Fantastic Adventures, Planet Stories, Amazing, Thrilling Wonder Stories, and Super Science Stories). Reynolds had an extraordinarily productive career, but virtually all of his work is now out of print. The guy doesn't even have an Amazon page. So it's great to see him finally getting some attention here and I look forward to seeing what Wildside will do with the rest of his catalog.
The Mack Reynolds stories reprinted herein include "Long Beer – Short Horn" (Fantastic Adventures, November 1950), "Mercy Flight" (Planet Stories, July 1951), "With This Ring…" (Fantastic Adventures, August 1951) and "Your Soul Come C.O.D" (Fantastic Adventures, March 1952).
The rest of the issue is equally impressive — it includes stories by Frank Belknap Long, Rafael Sabatini, Greye La Spina, David H. Keller, M.D., and many more. It also includes poems from Fritz Leiber, Robert E. Howard, Clark Ashton Smith, and more.
There's also a generous amount of art, much of it the original illustrations that accompanied the first appearance of these stories in pulp magazines. I appreciate the obvious care taken with reproducing the art, which looks as crisp and finely detailed as when it originally appeared.
Adventure Tales #7 was edited by John Betancourt and published by Wildside Press on May 5, 2014. It is 130 pages with no ads, priced at $12.50. There is no digital edition. The magazine doesn't have a website, but you can see all the back issues at the Wildside Press Magazine Shop.
We last covered the magazine with the previous issue, Adventure Tales #6.