Adventure Tales #6 Arrives
Adventure Tales #6 Arrives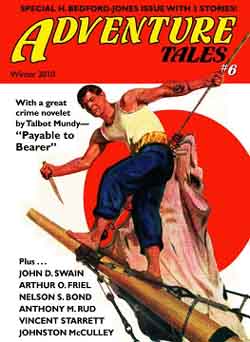 Wildside Press continues their excellent pulp reprint series with the sixth issue of Adventure Tales, presenting tales of classic fiction from Nelson S. Bond, Arthur O. Friel, Talbot Mundy, and Zorro creator Johnston McCulley, and poetry by Poul Anderson and Clark Ashton Smith, among others. The issue is cover-dated Winter 2010, but the publication date on the copy we received was September 13.
This is a special H. Bedford-Jones issue, with three complete stories from the pulp master. As usual the issue is handsomely illustrated, with finely detailed reproductions of the original accompanying artwork. It also includes a reprint of the complete first issue of George Scithers' legendary Sword & Sorcery fanzine Amra, which is pretty darn cool, and I hope future issues of Adventure Tales  keep up this tradition.
John Betancourt's editorial laments the loss of Scithers, one of the most accomplished editors in our field. Scithers was founding editor of Asimov's Science Fiction and edited both Amazing and Weird Tales in a long and varied career. He was a typesetter and Assistant Editor at Wildside until his death at 80 (and perhaps the loss of George's keen eye explains the rather unfortunate back cover credit to "Frits Leiber," for the poem "The Gray Mouser: 1" )
Overall this is a very handsome package, typical for Wildside's pulp reprints, and there were brief fisticuffs atop the Black Gate rooftop headquarters to determine who would take home our sole review copy.  John Fultz sucker-punched Bill Ward and had me in a headlock when Howard Andrew Jones unleashed an evil trained chicken who swooped in and scored the prize. Howard retreated to Indiana and, in his latest mocking transmission back to headquarters, claims to be already at work on a review.
Adventure Tales is 152 pages and is now available directly from Wildside for just $12.95.