New Treasures: Dead Man's Hand edited by John Joseph Adams
New Treasures: Dead Man's Hand edited by John Joseph Adams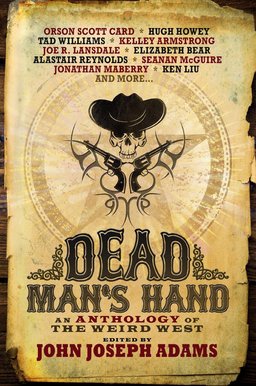 John Joseph Adams is having a good year.
Back in April, he was nominated for a Hugo Award for Best Professional Editor, Short Form (his seventh nomination), for his work as editor of Lightspeed, Nightmare, and anthologies like The Apocalypse Triptych.
That's not his only triumph this year — far from it. His popular anthology Robot Uprisings (co-edited with Daniel H. Wilson) was released on April 8, and the special Women Destroy Science Fiction issue of Lightspeed has just arrived, and is being recognized as a landmark issue.
But the JJA project I've most been looking forward to this year is his original anthology of Weird Western tales, featuring brand new stories from Alastair Reynolds, Joe R. Lansdale, Tad Williams, Seanan McGuire, Tobias S. Buckell, David Farland, Alan Dean Foster, Jeffrey Ford, Laura Anne Gilman, Fred Van Lente, Walter Jon Williams, and many more.
Dead Man's Hand was published by Titan Books on May 13. It is 409 pages, priced at $16.95 in trade paperback and $9.99 for the digital edition. Read more details — and the complete book description — in my April 13 Future Treasures post.
Here's the complete Table of Contents.
Introduction by John Joseph Adams
"Second Hand" by Rajan Khanna
"Alvin and the Apple Tree" by Orson Scott Card
"Bamboozled" by Kelley Armstrong
"Bookkeeper, Narrator, Gunslinger" by Charles Yu
"Dead Man's Hand" by Christie Yant
"Hell from the East" by Jugh Howey
"Hellfire on the High Frontier" by David Farland
"Holy Jingle" by Alan Dean Foster
"La Madre del Oro" by Jeffrey Ford
"Madam Damnable's Sewing Circle" by Elizabeth Bear
"Neversleeps" by Fred Van Lente
"Red Dreams" by Jonathan Maberry
"Stingers and Strangers" by Seanan McGuire
"Strong Medicine" by Tad Williams
"Sundown" by Tobias S. Buckell
"The Devil's Jack" by Laura Anne Gilman
"The Golden Age" by Water Jon Williams
"The Hell-Bound Stagecoach" by Mike Resnick
"The Man with No Heart" by Beth Revis
"The Old Slow Man and His Gold Gun from Space" by Ben H. Winters
"The Red-Headed Dead" by Joe R. Lansdale
"What I Assume You Shall Assume" by Ken Liu
"Wrecking Party" by Alastair Reynolds
See all of our recent New Treasures here.