2014 Hugo Award Nominees Announced
2014 Hugo Award Nominees Announced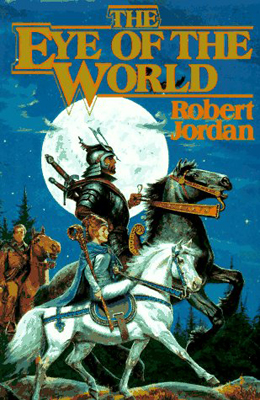 The nominees for the 2014 Hugo Awards have been announced by LonCon 3, the 72nd World Science Fiction Convention, and let's not mince words: it's a wacky ballot.
What's so wacky about it? Well, to start with, the novel category includes The Wheel of Time. That's right, the complete series. Which means that 2013 novels likes Parasite by Mira Grant and Ancillary Justice by Ann Leckie will be up against one of the great phenomena in publishing history, a series spanning more than 20 years with combined sales of 44 million (to put that in perspective, George R.R. Martin's A Song of Ice and Fire, which includes A Game of Thrones, has sold a paltry 24 million copies). Not exactly sure how that happened, but I wouldn't want to be one of the other novel nominees this year.
There are additional surprises. Analog magazine, effectively shut out of Hugo nominations for many years, has surged back into the limelight with two nominations (both for Brad Torgersen), and the traditionally strong Asimov's SF and F&SF both come away empty-handed. Some folks are laying the credit (or blame) for that on an organized campaign of bloc voting by nominee Larry Correia, which successfully placed as many as seven nominees on the ballot… but really, every year someone gets accused of bloc voting and it's tough to blame someone for having enthusiastic fans.
It's a triumph for Tor.com, with no less than four short fiction nods — more than all the print magazines combined. And the highly regarded Clarkesworld, which led the pack for short fiction nominations last year, didn't make the ballot at all.
There are lots of people to congratulate, including several Black Gate contributors on the list, but I'd like to give a special shout-out to Scott Taylor, who acquired Dan Wells's The Butcher of Khardov while he was an editor at Privateer Press. While I'd have to do some research to confirm it, I believe this is the first piece of licensed fiction to be nominated for a Hugo Award for Best Novella. Congrats on helping to make history, Scott!
The nominees for the 2014 Hugo Awards are:
Best Novel
Warbound, Larry Correia (Baen)
Parasite, Mira Grant (Orbit)
The Wheel of Time (complete series), Robert Jordan & Brandon Sanderson (Tor)
Ancillary Justice, Ann Leckie (Orbit)
Neptune's Brood, Charles Stross (Ace)
Best Novella
"Wakulla Springs," Andy Duncan & Ellen Klages (Tor.com, October 2, 2013)
"Equoid," Charles Stross (Tor.com, Sept. 24, 2013)
"The Chaplain's Legacy," Brad Torgersen (Analog, July-August 2013)
Six-Gun Snow White, Catherynne M. Valente (Subterranean)
The Butcher of Khardov, Dan Wells (Privateer Press)
Best Novelette
"The Truth of Fact, the Truth of Feeling," Ted Chiang (Subterranean, Fall 2013)
"Opera Vita Aeterna," Vox Day (The Last Witchking)
"The Waiting Stars," Aliette de Bodard (The Other Half of the Sky)
"The Lady Astronaut of Mars," Mary Robinette Kowal (Rip-Off! 2012)
"The Exchange Officers," Brad Torgersen (Analog, January 2, 2013)
Best Short Story
"The Water That Falls on You from Nowhere," John Chu (Tor.com, February 20, 2013)
"The Ink Readers of Doi Saket," Thomas Olde Heuvelt (Tor.com, April 24, 2013)
"Selkie Stories Are for Losers," Sofia Samatar (Strange Horizons, January 7, 2013)
"If You Were a Dinosaur, My Love," Rachel Swirsky (Apex Magazine, March 2013)
Best Dramatic Presentation – Long
Frozen
Gravity
The Hunger Games: Catching Fire
Iron Man 3
Pacific Rim
Best Dramatic Presentation – Short
An Adventure in Space and Time
Doctor Who: ''The Day of the Doctor''
Doctor Who: ''The Name of the Doctor''
The Five(ish) Doctors Reboot
Game of Thrones: ''The Rains of Castamere''
Orphan Black: ''Variations under Domestication''
Best Related Work
Queers Dig Time Lords: A Celebration of Doctor Who by the LGBTQ Fans Who Love It, edited by Sigrid Ellis & Michael Damian Thomas (Mad Norwegian Press)
"We Have Always Fought: Challenging the Women, Cattle and Slaves Narrative,', Kameron Hurley (A Dribble of Ink, May 20, 2013)
Speculative Fiction 2012: The Best Online Reviews, Essays and Commentary, Justin Landon & Jared Shurin, eds. (Jurassic London)
Writing Excuses, Season 8, Brandon Sanderson, Dan Wells, Mary Robinette Kowal, Howard Tayler & Jordan Sanderson
Wonderbook: The Illustrated Guide to Creating Imaginative Fiction, Jeff VanderMeer with Jeremy Zerfoss (Abrams Image)
Best Graphic Story
"The Girl Who Loved Doctor Who," Paul Cornell; art by Jimmy Broxton (Doctor Who Special 2013)
Girl Genius, Volume 13: Agatha Heterodyne & The Sleeping City, Phil & Kaja Foglio; art by Phil Foglio; colors by Cheyenne Wright (Airship Entertainment)
The Meathouse Man, adapted and illustrated by Raya Golden from the story by George R.R. Martin (Jet City Comics)
"Time," Randall Munroe (XKCD)
Saga, Volume 2, Brian K. Vaughn; art by Fiona Staples (Image Comics)
Best Professional Editor Long Form
Ginjer Buchanan
Sheila Gilbert
Liz Gorinsky
Lee Harris
Toni Weisskopf
Best Professional Editor Short Form
John Joseph Adams
Neil Clarke
Ellen Datlow
Jonathan Strahan
Sheila Williams
Best Professional Artist
Galen Dara
Julie Dillon
Daniel Dos Santos
John Harris
John Picacio
Fiona Staples
Best Semiprozine
Apex Magazine
Beneath Ceaseless Skies
Interzone
Lightspeed
Strange Horizons
Best Fanzine
The Book Smugglers
A Dribble of Ink
Elitist Book Reviews
Journey Planet
Pornokitsch
Best Fancast
The Coode Street Podcast
Doctor Who: Verity!
Galactic Suburbia Podcast
SF Signal Podcast
The Skiffy and Fanty Show
Tea and Jeopardy
The Writer and the Critic
Best Fan Writer
Liz Bourke
Kameron Hurley
Foz Meadows
Abigail Nussbaum
Mark Oshiro
Best Fan Artist
Brad W. Foster
Mandie Manzano
Spring Schoenhuth
Steve Stiles
Sarah Webb
John W. Campbell Award for Best New Writer
Wesley Chu
Max Gladstone
Ramez Naam
Sofia Samatar
Benjanun Sriduangkaew
Tor.com and Analog aren't the only winners in the short fiction categories — Subterranean brings home two noms this year.
Gardner Dozois's observation from April of last year is looking more and more prescient:
This year's Hugo Award ballot represents a historic shift in demographics. This has been coming on for a couple of years now, but this year a tipping point has been passed…

Only six out of the thirteen shorter works even come from PRINT publications, and four of those were novellas published in chapbook form by small presses; all the rest are from online publications. Only two of the five people nominated for Best Editor, Short Form, work at traditional print magazines; the rest edit online publications. ALL of the nominees for Best Semiprozine are online publications.

This is not going to change back. This is the way things will be from now on.
As usual, many of the short fiction nominees are already online and you can enjoy the best SF and fantasy of the year without lifting a finger (if you don't count your mouse finger). The tireless John DeNardo at SF Signal has provided a linked list of nominees for you. Thanks John!
The Hugos are named after Hugo Gernsback, the founding editor of Amazing Stories, and this year will be awarded  at the 72nd World Science Fiction Convention, LonCon 3, in London, England, on August 18, 2014.
Read up on last year's winners here, and the 2013 nominees here.