New Treasures: The Forever Watch by David Ramirez
New Treasures: The Forever Watch by David Ramirez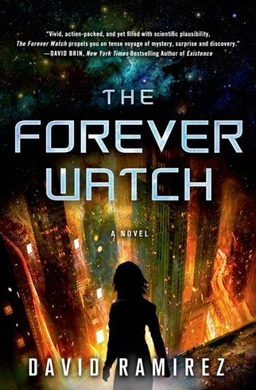 Thomas Dunne Books has produced some of the most exciting and original fantasy of the past few years and they've done it by taking chances on new and upcoming authors — including David Wong's John Dies at the End, Jonathan L. Howard's Johannes Cabal novels, Paula Brackston's The Winter Witch,  John Ajvide Lindqvist's Let the Old Dreams Die, Alaya Johnson's Wicked City, Seth Patrick's Reviver, Scott Oden's The Lion of Cairo, and of course Howard Andrew Jones's The Bones of the Old Ones.
That's a pretty darn good track record. But they don't appear to be slowing down in 2014. Their first novel to cross my desk in 2014 is David Ramirez's The Forever Watch, a far-future science fantasy mystery that looks very intriguing indeed.
All that is left of humanity is on a thousand-year journey to a new planet aboard one ship, The Noah, which is also carrying a dangerous serial killer…

As a City Planner on the Noah, Hana Dempsey is a gifted psychic, economist, hacker and bureaucrat and is considered "mission critical." She is non-replaceable, important, essential, but after serving her mandatory Breeding Duty, the impregnation and birthing that all women are obligated to undergo, her life loses purpose as she privately mourns the child she will never be permitted to know.

When Policeman Leonard Barrens enlists her and her hacking skills in the unofficial investigation of his mentor's violent death, Dempsey finds herself increasingly captivated by both the case and Barrens himself. According to Information Security, the missing man has simply "Retired," nothing unusual. Together they follow the trail left by the mutilated remains. Their investigation takes them through lost dataspaces and deep into the uninhabited regions of the ship, where they discover that the answer may not be as simple as a serial killer after all.

What they do with that answer will determine the fate of all humanity in David Ramirez's thrilling page turner.
The Forever Watch will be published tomorrow by Thomas Dunne books. It is 326 pages, priced at $24.99 in hardcover and $12.99 for the digital edition.