New Treasures: Let the Old Dreams Die by John Ajvide Lindqvist
New Treasures: Let the Old Dreams Die by John Ajvide Lindqvist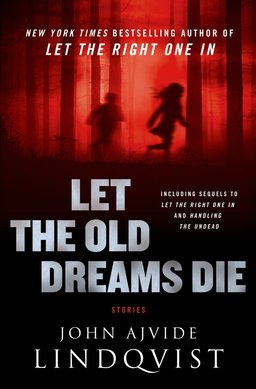 John Ajvide Lindqvist may be the breakout horror writer of the last decade.
That's not what I might have predicted, given his bio. Lindqvist was a street magician and stand-up comic in Sweden when his first novel appeared. Set in his home town of Blackeberg, a suburb of Stockholm, Let the Right One In (2004) has been filmed twice, once in Swedish and once in English, and both versions have brought him hosts of new fans. His second novel, Handling the Undead (2005), featured a horde of zombies shambling towards Stockholm; Harbour arrived in 2008, followed by Little Star in 2010.
Of course, being prolific is no proof of popularity. No, the real evidence that he's become a mainstream horror phenomenon is more obvious: he is relentless compared to Stephen King. Of the eight blurbs reprinted on the back of his latest, the short story collection, Let the Old Dreams Die, more than half invoke King: "Reminiscent of Stephen King at his best" (The Independent). "Deserves to be as much of a household name as Stephen King" (SFX). "Sweden's answer to Stephen King" (Daily Mirror). Makes me wonder if Stephen King will pick the book up in Barnes and Noble and think to himself, "Hey, this guy sounds pretty good."
Let the Old Dreams Die contains a dozen short stories and novellas, including sequels to both Let the Right One Did and Handling the Undead.
Because of the two superb films made of John Ajvide Lindqvist's vampire masterpiece Let the Right One In, millions of people around the world know the story of Oskar and Eli and of their final escape from Blackeberg at the end of the novel. Now at last, in "Let the Old Dreams Die," the title story in this absolutely stunning collection, we get a glimpse of what happened next to the pair…

"Let the Old Dreams Die" is not the only stunner in this collection. In "Final Processing," Lindqvist also reveals the next chapter in the lives of the characters he created in Handling the Undead. "Equinox" is a story of a woman who takes care of her neighbor's house while they are away and readers will never forget what she finds in the house. Every story meets the very high standard of excellence and fright factor that Lindqvist fans have come to expect.
Let the Old Dreams Die was released today by Thomas Dunne Books. It is 400 pages, priced at $27.99 in hardcover, and $14.99 in digital format.