New Treasures: Alaya Johnson's Wicked City
New Treasures: Alaya Johnson's Wicked City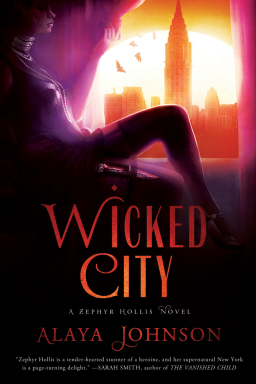 Yeah, pretty much the last thing I expected to distract me this week was yet another urban fantasy featuring a kick-butt female protagonist and a city overrun by vampires.
In my defense, the city is Prohibition-era Manhattan and our protagonist Zephyr Hollis, newly arrived from the ranches of Montana, isn't a vampire hunter but a socially conscious teacher who's not above mingling with men — and the Others, otherworldly creatures that include vampires — in discreet speakeasies. The quirky setting and fine attention to detail intrigued me, but it was the engaging narrator that kept me reading. The novel is Wicked City by Alaya Johnson, and it was this jacket copy that first hooked me:
It's summer in the city and most vampires are drunk on the blood-based intoxicant Faust. The mayor has tied his political fortunes to legalizing the brew, but Zephyr Hollis has dedicated herself to the cause of Faust prohibition — at least when she isn't knocking back sidecars in speakeasies.

But the game changes when dozens of vampires end up in the city morgue after drinking Faust. Are they succumbing to natural causes, or have they been deliberately poisoned? When an anonymous tip convinces the police of her guilt, Zephyr has to save her reputation, her freedom and possibly her life. Someone is after her blood — and this time it isn't a vampire.

In a New York City populated by flappers and vampires, debutantes and djinn, it's best to watch your back. You never know what's lurking in the shadows.
It's too early to tell if the novel is going to live up to its early promise, but so far indications are good. Wicked City goes on sale today; it is available in hardcover from Thomas Dunne Books, at $25.99 for 306 pages.