New Treasures: Blood Riders by Michael Spradlin
New Treasures: Blood Riders by Michael Spradlin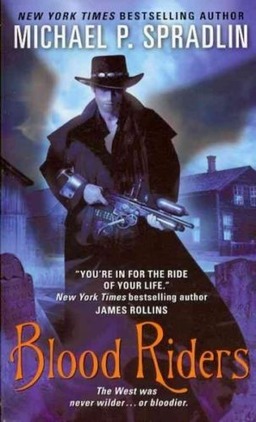 Okay, I admit I've been on a weird western kick recently. It started with the Bloodlands novels of Christine Cody, Lee Collins's She Returns From War, and Guy Adams's The Good The Bad and The Infernal and the sequel Once Upon a Time in Hell; then I moved on to Mercedes Lackey & Rosemary Edghill's Dead Reckoning, and The Six-Gun Tarot by R.S. Belcher. For those of you keeping up at home — congratulations. We should form a book club.
Michael Spradlin's Blood Riders is the latest, and it looks like it will fit right in, with plenty of vampires, monsters, and weird goings-on in the post-Civil War Western Territories.
The Western Territories, 1880. For four years, Civil War veteran and former U.S. Cavalry Captain Jonas P. Hollister has been rotting in a prison cell at Fort Leavenworth, Kansas. His crime: lying about the loss of eleven soldiers under his command… who he claims were slaughtered by a band of nonhuman, blood-drinking demons.

But now a famous visitor, the detective Allan Pinkerton, has arrived with an order for Hollister's release. The brutal murder of a group of Colorado miners in a fashion frighteningly similar to the deaths of Hollister's men has leant new credence to his wild tale. And suddenly Jonas Hollister finds himself on a quest both dangerous and dark — joining forces with Pinkerton, the gunsmith Oliver Winchester, an ex-fellow prisoner, a woman of mystery, and a foreigner named Abraham Van Helsing, who knows many things about the monsters of the night — and riding hell for leather toward an epic confrontation… with the undead.
Blood Riders was published September 25, 2012 by Harper Voyager Fantasy. It is 388 pages, priced at $7.99 for the paperback and $6.99 for the digital edition.