Vintage Treasures: The Scroll of Man by John Dalmas
Vintage Treasures: The Scroll of Man by John Dalmas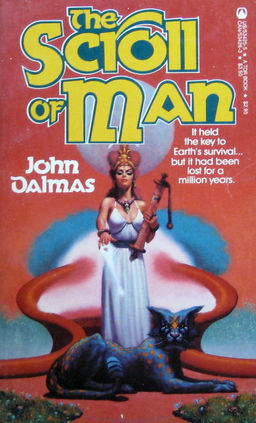 This month, I've been trying out books by authors I've never read before and today it's time to try the American SF writer John Dalmas.
John Dalmas was born in Chicago in 1926; his first published story was The Yngling, which appeared (in two parts) in the October and November issues of Analog Science Fiction in 1969. Since then, he's published some 27 novels, including his latest, The Signature of God, which appeared as an e-book last year. He turns 88 this year and maintains a fairly active blog here. (That's the spirit, Dalmas! Don't let any of those younger SF writers give you crap.)
Dalmas is probably best known for his Regiment books from Baen, a military SF series which began with The Regiment in 1987 and continued for five more novels. But I settled on The Scroll of Man because it has a cool cover with a regal blue cat and a young lady with some impressive headgear, zapping her lazy kitty with a mini lightning bolt. I wish I could do the same thing when my cat won't budge from my recliner, let me tell you. You show 'em, princess lady.
"I hit the ground and lay there, feeling close-cropped grass against my body. A moment earlier I'd been kicking along on skis across the Yukon flats in a Siberian training project. But this looked like some sort of temple garden, it was a summer night, and I was naked and unarmed.

"And two large golden eyes were watching me from the shadows."

The Guardian had sent out a call for a great warrior. Now She had one… only he was from three million years in the past.
Okay, I have no idea what any of that is about. My guess, princess lady is The Guardian. I don't know how the cat figures into events, but I bet it deserved the lighting bolt. Cats. You can't trust 'em.
The Scroll of Man was published in 1985 by Tor. It is 255 pages, priced at $2.95. It has never been reprinted and there is no digital edition. The colorful cover is by Ramos.