Future Treasures: The Best Science Fiction and Fantasy of the Year Volume 8, edited by Jonathan Strahan
Future Treasures: The Best Science Fiction and Fantasy of the Year Volume 8, edited by Jonathan Strahan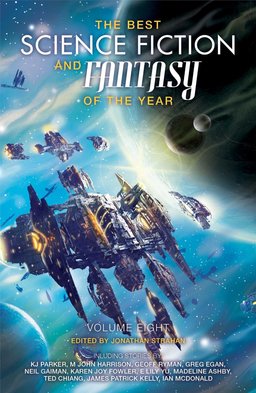 When we covered The Best Science Fiction and Fantasy of the Year Volume 7 (back in May, if memory serves), publisher Night Shade was having serious issues and I mentioned, "Likely this will be the last one, at least in this format." Which I considered a real tragedy, as editor Strahan has proven to have a real talent for picking out gems from the crowded and constantly changing genre short fiction market.
Fortunately, ace publisher Solaris has stepped into the void and rescued the series and Volume 8 will appear this year on schedule. They've changed the distinctive cover style and format — a shame, since the first seven volumes look impressive on my shelves — but hopefully they won't mess with too much else.
Strahan has unveiled the table of contents at his website and it looks like another very impressive volume. As usual, he culls fiction from a wide range of industry markets, including traditional print mags — F&SF, Interzone, McSweeney's, Asimov's, Electric Velocipede, and even Twelve Tomorrows, the special SF issues of the MIT Technology Review — and top-tier online markets like Clarkesworld, Lightspeed, Beneath Ceaseless Skies, Eclipse Online, Subterranean, Tor.com, and Strange Horizons.
He also draws stories from the biggest anthologies of the year, like Old Mars, Dangerous Women, Rags and Bones, Once Upon a Time: New Fairy Tales, and An Aura of Familiarity.
Authors in this volume include Ian McDonald, Robert Reed, Eleanor Arnason, Ian R Macleod, Charlie Jane Anders, James Patrick Kelly, K J Parker, Lavie Tidhar, Richard Parks, Ted Chiang, M. John Harrison, Neil Gaiman, Geoff Ryman, Greg Egan — and, as always, a few new talents whose names you may not yet recognize, but whom you may want to keep an eye on.
Here's the book description:
The best of the year's Science Fiction and Fantasy stories as selected by the multiple award-winning editor Jonathan Strahan. The series moves to its new publishing home, Solaris, with this eighth annual volume of the celebrated and popular series.

DISTANT WORLDS, TIME TRAVEL, EPIC ADVENTURE, UNSEEN WONDERS AND MUCH MORE!

The best, most original and brightest science fiction and fantasy stories from around the globe from the past twelve months are brought together in one collection by multiple award winning editor Jonathan Strahan. This highly popular series now reaches volume eight and will include stories from both the biggest names in the field and the most exciting new talents.

Previous volumes have included stories from Neil Gaiman, Stephen King, Cory Doctorow, Stephen Baxter, Elizabeth Bear, Joe Abercrombie, Paolo Bacigalupi, Holly Black, Garth Nix, Jeffrey Ford, Margo Lanagan, Bruce Sterling, Adam Robets, Ellen Klages, and many many more.

With this volume the series comes to a new home at Solaris, publishers of Jonathan Strahan's award-winning original Infinities SF anthologies and the Fearsome fantasy anthologies.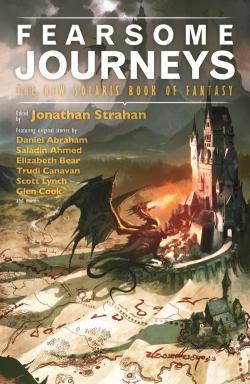 Solaris Books is quietly becoming one of the most important anthology producers in the genre.
As pimped in the book description, they also publish Jonathan Strahan's Infinities SF anthologies (Engineering Infinity, Edge of Infinity, and the upcoming Reach for Infinity), and the Fearsome fantasy anthologies (one so far: Fearsome Journeys: The New Solaris Book of Fantasy, which we covered here.)
They also published Ian Whates's Solaris Rising: The New Solaris Book of Science Fiction and last year's Solaris Rising 2.
That's a pretty impressive list for just the last few years… especially if they manage to keep these books going.
Here's the complete Table of Contents, with links to the stories available online (thanks to Jon DeNardo at SF Signal for the formatting and the links):
Introduction, Jonathan Strahan
"Some Desperado" by Joe Abercrombie (Dangerous Women)
"Zero for Conduct" by Greg Egan (Twelve Tomorrows)
"Effigy Nights" by Yoon Ha Lee (Clarkesworld)
"Rosary and Goldenstar" by Geoff Ryman (F&SF)
"The Sleeper and the Spindle" by Neil Gaiman (Rags and Bones)
"Cave and Julia" by M. John Harrison (Kindle Singles)
"The Herons of Mer de l'Ouest" by M Bennardo (Lightspeed)
"Water" by Ramez Naam (An Aura of Familiarity)
"The Truth of Fact, the Truth of Feeling" by Ted Chiang (Subterranean)
"The Ink Readers of Doi Saket" by Thomas Olde Heuvelt (Tor.com)
"Cherry Blossoms on the River of Souls" by Richard Parks (Beneath Ceaseless Skies)
"Rag and Bone" by Priya Sharma (Tor.com)
"The Book Seller" by Lavie Tidhar (Interzone)
"The Sun and I" by K.J. Parker (Subterranean)
"The Promise of Space" by James Patrick Kelly (Clarkesworld)
"The Master Conjurer" by Charlie Jane Anders (Lightspeed)
"The Pilgrim and the Angel" by E. Lily Yu (McSweeney's 45)
"Entangled" by Ian R. Macleod (Asimov's)
"Fade to Gold" by Benjanun Sriduangkaew (End of the Road)
"Selkie Stories are for Losers" by Sofia Samatar (Strange Horizons)
"In Metal, In Bone" by An Owomoyela (Eclipse Online)
"Kormack the Lucky" by Eleanor Arnason (F&SF)
"Sing" by Karin Tidbeck (Tor.com)
"Social Services" by Madeline Ashby (An Aura of Familiarity)
"The Road of Needles" by Caitlín R Kiernan (Once Upon a Time: New Fairy Tales)
"Mystic Falls" by Robert Reed (Clarkesworld)
"The Queen of Night's Aria" by Ian McDonald (Old Mars)
"The Irish Astronaut" by Val Nolan (Electric Velocipede)
We last covered Strahan's The Best Science Fiction and Fantasy of the Year with Volume 7.
The Best Science Fiction and Fantasy of the Year Volume 8 will be published by Solaris on May 13, 2014. It will be 640 pages, priced at $19.99 in paperback. No word yet on a digital edition.