New Treasures: Snowblind by Christopher Golden
New Treasures: Snowblind by Christopher Golden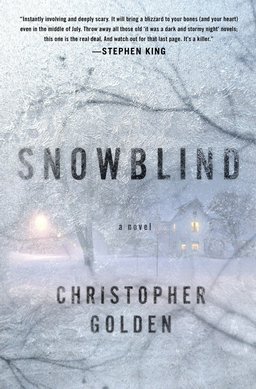 I think I speak for the entire country when I say that this winter stinks.
Seriously. I grew up in Canada; I know cold, miserable winters. When I was five, I spent a year in northern Quebec, where it snowed in June and the winter was one constant snow storm. I remember I climbed the snowdrift by our driveway until I was able to step up onto the house, and my Dad came out and yelled at me to get off the roof. Now that's a lot of snow.
But I can't ever recall a winter as cold or as miserable as this one. Here in Chicago, the weathermen tell us we're only a few inches away from a snowfall record and a few more sub-zero days away from the coldest winter on record.
The things that frighten each generation are very different. And it's only our very best best horror writers who are so plugged into the national psyche that they know what frightens us before we know it ourselves. And after the winter of 2013-2014, I think we'll all look back and appreciate just how brilliant Christopher Golden is and how he picked the right year to write a novel about a killer snow storm.
The small New England town of Coventry had weathered a thousand blizzards… but never one like this. Icy figures danced in the wind and gazed through children's windows with soul-chilling eyes. People wandered into the whiteout and were never seen again. Families were torn apart, and the town would never be the same.
Now, as a new storm approaches twelve years later, the folks of Coventry are haunted by the memories of that dreadful blizzard and those who were lost in the snow. Photographer Jake Schapiro mourns his little brother, Isaac, even as — tonight — another little boy is missing. Mechanic and part-time thief Doug Manning's life has been forever scarred by the mysterious death of his wife, Cherie, and now he's starting over with another woman and more ambitious crimes. Police detective Joe Keenan has never been the same since that night, when he failed to save the life of a young boy… and the boy's father vanished in the storm only feet away. And all the way on the other side of the country, Miri Ristani receives a phone call… from a man who died twelve years ago. As old ghosts trickle back, this new storm will prove to be even more terrifying than the last.
Christopher Golden is the author of the six-volume Shadow Saga, the Body of Evidence series, and three Hellboy novels with Mike Mignola. His standalone novels include The Ferryman, The Boys Are Back in Town, and When Rose Wakes. This is his first straight-up horror novel in more than a decade.
Snowblind was published by St. Martin's Press on January 21, 2014. It is 309 pages, priced at $25.99 in hardcover and $12.99 for the digital edition.
See all of our recent New Treasures here.