Syria AD256 City of Dura Europos
Syria AD256 City of Dura Europos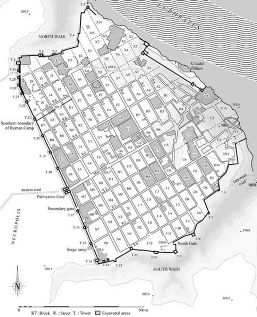 Two dozen Roman soldiers clamber into a narrow counter-mine and dress their shields. Armour clattering and grating on the rough-cut rock walls, they jog through the cool tunnel towards the Persian mine.
At stake are the walls of Dura Europos and the people they protect — the citizens and the women and children of the garrison. Can the Romans clear the tunnel before the Persians fire it, bringing down the ramparts so that they can pour in and massacre or enslave the population?
Tunnel fights are intimate scrums by lamplight. There's no space for unit tactics. It'll be a head-to-head fight and these Romans are a human battering ram.
The soldier behind will shove. The one in front will hack and stab like a madman until he falls and the next blunders over him to take his turn.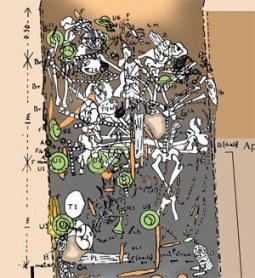 Not steel, but a choking cloud greets these brave, grim men; the fumes from bitumen and sulfur. Within a few heartbeats, they're down. Within minutes, nineteen of them are dead plus one attacker who perhaps inhaled when he should have not.
The Persians, also soldiers, stack the bodies to form a barricade then fire the tunnel props. This stretch of wall doesn't fall. But the Persians take the city anyway, wiping it off the map, herding the women and children into slavery in foreign lands.
We know all this because, on the eve of another war, archaeologists found the tunnel and the corpses. Nearly eighty years later, another archaeologist worked out what killed them.
And so we have a nice plan of the find (see left.) Roman soldiers in their battle gear. A mailed Persian for comparison. Evidence of sophisticated siege warfare.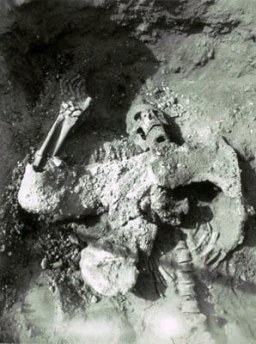 But wait.
These were real people. Nineteen Romans. That's more than two eight-man squads. Perhaps they sent three squads down, and the last three men got out wheezing but alive?
A squad, a contubernium, doesn't just fight together, or bunk together, they live together.
There's no reason why a Roman barracks should have been any different from an 18th-century European one; entire families crammed into the neat rooms, bunks curtained off, and the young couple in the corner on the top bunk making babies while the woman in the bottom bunk is pushing out her fourth, and the children scamper under foot, or making themselves useful polishing kit.
So tonight, two barrack rooms are empty of their men, with just the women and children left to mourn. And in a third barrack room, three men must somehow justify their survival to the widows…
Later, the Persians come to wash the well-scrubbed floors with the blood of children.
This isn't Rome Total War, this is war.