Vintage Treasures: Br-r-r-! edited by Groff Conklin
Vintage Treasures: Br-r-r-! edited by Groff Conklin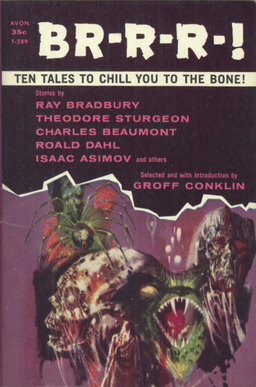 You've got to admire an editor who titles his anthology Br-r-r-! You just know it caused fits with distributors, book sellers, librarians and other folks who alphabetize books for a living.
Mind you, Br-r-r-! was Conklin's 21st science fiction anthology, and I figure by that point you'll do anything to break up the tedium a bit. It was released in 1959; by 1964 he was so desperate for new topics he was putting out books like Great Detective Stories About Doctors (um, what?). He eventually produced 44 anthologies, before (presumably) going crazy and locking himself in a lighthouse.
In any event, Br-r-r-! looks like a terrific collection, starting with that striking and original Richard Powers cover. Put that cover on a phone book, and I still might choose to read that over a lot of other stuff on the shelves in 1959. Just sayin'.
Here's the back-cover text. If this doesn't bring you back to the classic era of 1950s monster movies, then your education is seriously lacking.
B R R R R ! — you'll shudder when you meet:

THE MONSTER WORM that took 200 years to come up from the depths of the damned — it hated mankind!
THE BEETLE FROM HELL whose stinger brought slow, excruciating death — its evil eyes held the promise of something even worse!
THE LIVING CORPSE that commanded a graveyard. It sentenced a mortician to the bubbling bowels of hell!

And in "Legal Rites," Isaac Asimov relates the fascinating — and gory — story of a blood-dripping specter fighting for its right to haunt a house. Asimov flavors pure horror with a unique brand of fantastic humor.

These are some of the blood-curdling, heart-pounding messengers of horror to be found in these bloodstained pages of evil!
Just for the record, the pages in my copy are not actually bloodstained. Or evil.
It's fun to play "match the story" with the over-the-top descriptions on the back. I figured THE MONSTER WORM had to be the loathsome star of Theodore Sturgeon novelette "It," but more likely it's David H. Keller's "The Worm." And THE BEETLE FROM HELL has gotta be Algernon Blackwood's "An Egyptian Hornet."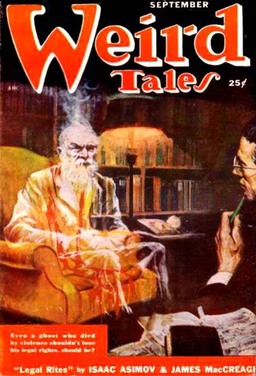 No idea what "THE LIVING CORPSE that commanded a graveyard" is. My first guess was Henry Kuttner's famous Weird Tales debut The Graveyard Rats… but when I double-checked the Table of Contents, I discovered that story isn't even in the collection! So much for my memory.
I find it odd that "Legal Rites" was credited solely to Asimov (it was co-written with Frederik Pohl.) Sure, Asimov was a bigger name in SF in 1959, but Pohl had several very popular novels to his name by the end of the 50s, including The Space Merchants (1953), Search the Sky (1954) and Gladiator-at-Law (1955), all co-written with C. M. Kornbluth. By the time his Gateway novels appeared in the 70s and early 80s, his fame as an SF novelist was approaching Asimov's, and personally I think he was a better fiction writer.
Nonetheless, the Table of Contents is packed with some of the most famous names in SF and horror. In addition to Asimov, Pohl, Sturgeon, and Blackwood there's also Ray Bradbury, Roald Dahl, Charles Beaumont, Murray Leinster, H. L. Gold, David H. Keller, and Margaret St. Clair.
The anthology pulls from many of the top pulp magazines, including Amazing, Unknown, and Weird Tales — as well as The Saturday Evening Post, The New Yorker, and a handful of collections.
Here's the complete TOC:
Introduction, by Groff Conklin
"It," by Theodore Sturgeon (Unknown, August 1940)
"Nursery Rhyme," by Charles Beaumont (The Hunger and Other Stories, 1957)
"Doomsday Deferred," by Murray Leinster (The Saturday Evening Post, September 1949)
"Warm, Dark Places," H. L. Gold (Unknown, October 1940)
"Legal Rites," by Isaac Asimov and Frederik Pohl ((Weird Tales, September 1950)
"An Egyptian Hornet," (Day and Night Stories, 1915) by Algernon Blackwood
"White Goddess," by Margaret St. Clair (The Magazine of Fantasy and Science Fiction, November 1955)
"The Handler," by Ray Bradbury (Weird Tales, January 1947)
"The Sound Machine," by Roald Dahl (The New Yorker, September 17, 1949)
"The Worm," by David H. Keller, M.D. (Amazing Stories, March 1929)
Br-r-r-! was published by Avon in 1959. It is 192 pages, originally priced at 35 cents in paperback. It has never been reprinted, and there is no digital edition. The cover is by Richard Powers.
I bought a copy on eBay in beautiful condition in November for $2.95. That's sad. What's wrong with you people, and why aren't you buying vintage paperbacks?
See all of our recent Vintage Treasures here.